Warning
: file_get_contents(): Couldn't resolve host name in
/home/adwood5/public_html/buyaukulele/cont/FrontControl.php
on line
2101
Warning
: file_get_contents(http://rss.api.ebay.com/ws/rssapi?FeedName=SearchResults&siteId=0&language=en-US&output=RSS20&sacat=619&ftrt=1&fbd=1&sabdlo=&sabdhi=&saprclo=&saprchi=&floc=1&saslop=1&fsop=1&fsoo=1&from=R6&fss=1&sasl=&sacur=0&afepn=5335823730&customid=hilo&saslc=0&fcl=3&saaff=afepn&catref=C5&frpp=100&satitle=hilo+ukulele+-string+-strings%2B+&ftrv=1&fts=&salic=0&sascs=0&fspt=0&fpos=&sadis=25&frts=0): failed to open stream: operation failed in
/home/adwood5/public_html/buyaukulele/cont/FrontControl.php
on line
2101
Hilo Ukuleles
There have been a few ukuleles using the name 'Hilo' over the years. The most common one now is based on the island of Hilo, Hawaii (although the ukuleles themselves are made in China). All the advertising I've seen for them say the company was founded in 1926. But for a company that old, there's not much information on them around.
On Video
On eBay
No products matching your query have been found in our store. Please bookmark this page and come back soon to see if we have what you want.
Hilo Ukulele Review
How I Wound Up With a Hilo and Why I Wouldn't Trade it for the World
By Lonna B
For the contest, I would like to submit a review of my first ukulele, which is a concert size Hilo, model number 2659.This Hilo sports a satin finish and is mahogany in
color
.The fret board is wooden (Yep, that's exactly what the specs say: "wooden") with seventeen metal frets.It also has precision geared tuning machines and they help keep those pesky strings in place, which really helps in avoiding eye injury.
It was the summer of 2006.UkeHunt wasn't around yet and I did not have the good sense to find
musicguymic
on e-bay.What I did know was how to find the
Guitar Works
in Greenwood, Indiana.I called them up and, after hearing that they had ukuleles, packed the family up in the car and headed off.When we got there, they had one ukulele.I can't remember the make, but I bet it's still there.What I do remember was that this ukulele was way out of my price range and behind glass.I should have asked to play it, but instead followed Guitar Geek to a rather large catalog from which he picked the Hilo to be my best bet as a starter ukulele.We placed the order and after waiting two weeks, there I was again, in a guitar store, buying an ukulele.I paid my fifty bucks and was handed a cardboard box.As I left the store, Guitar Geek told me to come back if I needed help tuning it, and then he snickered.
As soon as my cheeks hit the car seat, I was prying open my cardboard box to get a view of my new acquisition.I strummed it once, and again.I think it was in tune at that point.By the time I got home, it definitely was not.But, no worries!I had waiting for me a 'learn to play the ukulele' CD with a track specifically for helping me get back in tune.


I spent the greater part of thirty minutes getting the ukulele back in tune.And then, darn it, it didn't sound like it was in tune anymore.That was all the time I had to practice that day.


Future practice sessions took a similar path.


Discouraged, feeling as though the ukulele was destined to join the
guitar
and the
djembe
in my instruments that collect dust collection, I tossed the ukulele up into my closet.
Months went by.Dust did, in fact, collect on my ukulele.


One glorious day the Hilo fell out of my closet and hit me on the head.It was this head injury that helped me make the decision to order a
tuner
for the Hilo, afraid that the djembe might come after me next.I'llgive you a tip,a djembe to the toe can be excruciating.As obvious as this must sound, once I was able to keep my instrument tuned, I had the green light to start learning chord shapes.On the day my tuner arrived, I learned 'Twinkle, Twinkle, Little Star' and was rather impressed with my progress.(I'm learning 'Baa, Baa, Black Sheep' now, so I'm really coming along)
In tune and with a pocketful of chords, I started playing the Hilo daily.When we took off for a family vacation in the summer of 2007, the Hilo came along.She gets her name from
the cabin we stayed at
during this vacation, The Bonnie Pearl.(Please, like y'all don't name your ukuleles…) The acoustics in the log cabin were fantastic and that ole Hilo had never sounded so good.
With daily playing and some improvement, the UAS itch set in. I ordered my second ukulele from musicguymic in August of 2007( a Kala tenor,Spalted Flame Maple) and was pants wet excited when it came.My family was so encouraging.My mother mentioned that the Bonnie Pearl would probably sound just fine if someone who knew how to play the ukulele were to play it.My dad recommended learning to play the ukulele I had before purchasing a new one. It's no wonder I didn't learn to play an instrument until I was thirty (uhm) years old.


Excited, and now aware that with a new instrument the strings would take some time to stretch, I got right to strumming and tuning, strumming and tuning , but forever loyal, I returned the Kala to its case after some time (it came with a case- not in a cardboard box) and picked up the Bonnie Pearl.


The Bonnie Pearl has remained free of dust even though the Kala is a superior instrument. It is the ukulele that my
kids
are more likely to pick up.(yes, I allow them to touch the Kala…sometimes).The size makes this instrument less intimidating and it is quieter and softer in tone.A missed note doesn't sound like a bomb.It is also the instrument I choose to play in the evening when I want to be near my husband while he watches
The Daily Show
. When I am learning a new song, I almost always start out on the Bonnie Pearl and then move up to the Kala.I have let babies bang this ukulele around and it's been tagged by their drool.I've found it is less prone to getting dents and scratches than the Kala is, even though it has been roughed around so much.The action is decent, but there is a bad spot on the C string second fret that sometimes causes a little buzzing.This is not usually a problem if you know how to find the sweet spot.The overall sound is a little tinny, but in a happy and welcoming way.I replaced the Hilo strings that it came with
good strings
and, like everyone says, better strings make a difference worth noting.I would mention that the Hilo was *gasp*made in China, but that would be like saying it has four strings.
I would recommend that everyone start out with a cheap ukulele, if only to have the thrill of stepping up later.I know there are several choices as far as cheap ukuleles go, and I wouldn't know how to rank Hilo among them.What I can say is that if you don't know any better, the Hilo sounds pretty.If you do know better and it's the only ukulele around, you aren't going to care because at least it's not a guitar.(sorry, Guitar Geek)I can also say that, no matter how many ukuleles I end up hoarding, The Bonnie Pearl will always have a special place in my collection and I am likely to continue playing it out on the porch as more expensive and better sounding ukuleles join the party.


I am including examples of how the Hilo sounds, one
strumming
and one
picking
.
Hilo Soprano Ukulele Review
I'm Jeffjo and I am reviewing the Hilo Soprano Ukelele. You'll "cock up your beaver" and say "see you in my dreams" to your guitar when you hear the sweet sounds of this versatile instrument. It has twelve frets and four individual tuning pegs and holds its tune even through a raucous set! It comes in mahogany finish or Hawaiian themed mural for $39.00 U.S. This Hilo ukelele is a great instrument whether you're 3 or 103 and want to learn how to play the ukelele!
See you at the beach!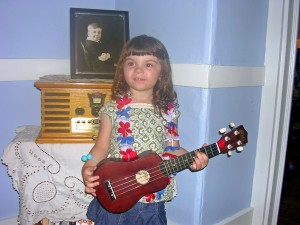 Review by Jeffjo