Terry Kinakin – My Little Gold Digger (mp3)
Terry Kinakin -Pineapple Sunday (mp3)
That there is the first KoAloha Sceptre of the first batch of KoAloha Sceptres.
Terry Kinakin plays just about every fretted instrument going (banjo, guitar, mandolin) with a wide variety of groups in many different styles. But, obviously, it's his uke playing that gets me all hot and bothered. As well as playing with the Nashville Ukulele Society, he also writes and performs solo material and he was kind enough to send me some mp3s. One of which was an ode to the KoAloha Sceptre itself.
Terry Kinakin – Sceptre-ific (mp3)

You can read the story of how he came by the first Sceptre off the production line and his meeting with Mr KoAloha himself, Alvin Okami, here. He's certainly done the instrument justice with the tune Sceptre-ific. It's a fantastic little fingerpicking piece that takes advantage of the tone, volume and range of the Sceptre. I couldn't resist grabbing my (lower quality) uke and playing the tune myself. Here's the tab for the first section.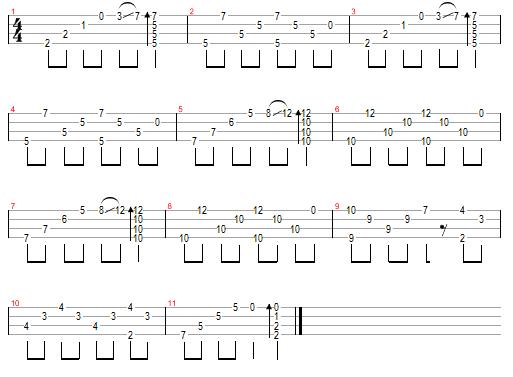 You can find out more about Terry, download more mp3s and friend him up on his MySpace.