I'm a big fan of Lil' Rev's playing and have featured him a few times on the site. So I was really looking forward to checking out his latest book 101 Ukulele Licks. And Rev was kind enough to send me a copy for review.
What You Get
48 page book containing tab and standard notation for 102 licks (according to my count) of either one or two bars in length. They're divided by genre (and within the blues section also by key). Here's my count:
Blues: 68 licks
Country: 16 licks
Bluegrass: 16 licks
Rock 'n Roll: 2 licks
36 track CD containing examples of the licks (usually four per track) and backing tracks to play over.
There's a short guide to reading notation but you'll need to know how to read tab before you tackle the book. There's not much text and what there is focuses on uke history and players. So you'll need to be familiar with how to play bends, slides, hammer-ons and pull-offs.
The Good Stuff
Variety of licks: There are a whole lot of ideas in here and there are loads of really tasty licks. I've found plenty that have caught my attention and I'll be integrating into my playing. The licks are spread across most keys (and most are movable). A few ideas are repeated in different keys, but the variety of the licks is very strong.
The only thing I'd say if I was being really picky is that almost all the licks start exactly at the start of the bar.
Good range of difficulty: If you are used to single note playing, you'll find plenty here you can play. Most of the licks are very straight forward and there are a few more challenging ones.
Short on fluff: The book is very lean. The focus on the book is very strongly on the licks. There's very little padding.
Good price: It's cheapest on Amazon where you can get it for 10 cents per lick (don't get me started about rip-off Britain).
The Not So Good Stuff
Not much explanation: It's obviously not meant as an instruction book, but a bit more guidance in areas like fingering would have been nice.
Being an arrangement nerd, I'm really interested to know the thinking behind some of them. Like this very tasty lick. The book shows it the top way, I would have played it the bottom way.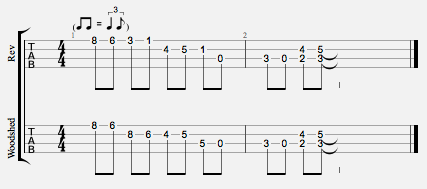 It's a bit guitary: Most of the licks sound like guitar licks transported to ukulele (and guitarists are mostly cited as influences). It's fair enough being a lick library, but it would have been nice to see more use of the re-entrant string and some chord based licks.
The ukulele history bits are superfluous: The book is aimed at more advanced players so I don't think there's any reason to rehash ukulele history again. I'd have much preferred that space to be used to discus the techniques used.
Overall
101 Ukulele Licks isn't aimed at everyone and it's all the better for that. If you're looking to make your soloing more interesting and you find yourself repeating the same stuff, definitely get this book. There are loads of ideas in there that will inspire you. I tend not to memorize and slavishly follow licks, but I always store away ideas that I can drag out and this has given me plenty.
Buy it on Amazon US and Amazon UK.