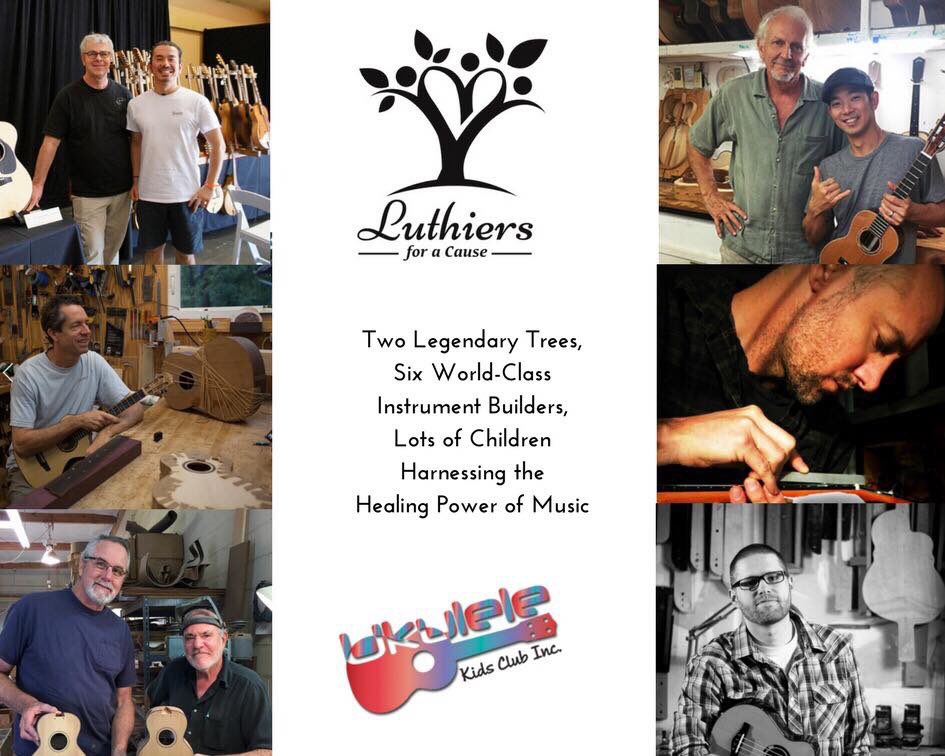 Luthiers for a Cause is a new project bringing together six incredible luthiers (Steve Grimes, Beau Hannam, John S Kinnard, Jay Lichty, Jake Maclay and Joji Yoshida) and two trees nicknamed The Tree and Lucky Strike.
These luthiers will each build a ukulele and sell it to benefit The Ukulele Kids Club. If you can't afford to buy one of ukes when they're done, you can always hit up their donation page.
Eddie Monnier, the organiser of Luthiers for a Cause, was kind enough to answer a few questions about the project.
Luthiers for a Cause sounds like a fantastic project. How did it come about?
While attending the Ukulele Guild of Hawaii Show in November 2016, I was sitting with two industry friends (luthier Jay Lichty and Kinnard Ukes distributor Kevin Beddoe) and we were discussing the roles of the luthier versus the tonewood in the final sound of an instrument. We started brainstorming a project that might be educational/informative on the topic while also raising money for a worthwhile cause. We were all three really excited about the idea of creating a project that could let a handful of top-tier luthiers demonstrate different voicings and aesthetics with virtually identical wood.
— Jay and Corrie (@lichtyguitars) February 4, 2017
Then that evening at dinner, the three of us were sitting with Steve Grimes, a very highly respected luthier in the guitar and uke world. We shared the idea for his thoughts. He was immediately supportive and said he'd love to do it. I was pleasantly stunned. Steve had been involved with a famous project called The Blue Guitar project. Back in the 90's, renown guitar collector Scott Chinery asked 22 top luthiers to build their ultimate version of an archtop guitar with the only constraint being they had to be blue in homage to his blue sunburst D'Aquisito Centura Deluxe, which he considered one of the most perfect guitars he ever played.
So with Steve genuinely excited about our project, I was pretty certain we had something special in the works.The next day on my flight home, I put the idea to paper and started fleshing it out. I reached out to a few other highly regarded luthiers and continued to get very favorable responses. The project's momentum just kept building on itself. Patchen Uchiyama, another ukulele enthusiast I met at UGH, asked how he could help when I shared the project with him and shortly thereafter Jay Lichty's wife also offered her assistance. I was very thankful to have the help given how the project was really taking off.
Can you tell us a little about Ukulele Kids Club? Why did you choose to support them?
The Ukulele Kids Club is a 501(c)3 whose mission is to harness the healing power of music by supporting music therapy programs and gifting ukuleles to hospital-based music therapy programs so that children in need can be sent home with the gift of music for life. Founder Corey Bergman and his wife Edda formed the charity when they reacted to their own personal tragedy by committing more of themselves to community service. While using his music skills to perform community service in a children's hospital, Corey learned about and became an ambassador for the healing power of music. The ukulele is a great instrument for hospital music therapy because its compact size allows it to be comfortably held in bed, kids can learn a few basic chords and start making music very quickly, and its joyous voice.
Why did we choose UKC? Well, it's certainly an obvious fit but we did go through a process to discover that. First, we wanted a charity of the right size. Small enough that our target of raising at least $25K would make a material difference to their mission but large enough that it could put the funds to use effectively. Second, we wanted to know that a very high percentage of our founds would directly benefit the charity's target audience. Third, we wanted a charity focused on children. And lastly, we felt a music connection would be an added bonus.
Patchen, Corrie and I researched charities and developed a short list of candidates which we compared against those criteria. UKC was such a strong fit on paper. We then spoke with Corey several times about our project and got very comfortable with his vision and ability to effectively use the funds we raise. The instruments are given by a music therapist, so every child gets some of the basics in a lesson. This is so important so that the children can start making music and realizing the benefits of music therapy.
All the instruments are going to be made with wood from two trees. What's so special about these trees?
It wasn't enough to choose the same species of tree, we wanted wood from the same exact tree. I initially started out trying to source figured maple from the same tree but was encountering logistical and timing issues. We then decided to pursue The Tree, a famous one-of-a-kind Honduran mahogany tree that is truly unique visually and tonally from normal mahogany. While sourcing that wood, I learned about Lucky Strike redwood and then sourced that separately.
To have six highly distinguished luthiers each building an instrument from woods from the same specific trees at the same time is unprecedented. And to do so with such storied woods and for such a worthy cause make Luthiers for a Cause a very special project.
What's the best way for people to follow and support Luthiers for a Cause?
There are several ways to keep tabs on the project. People can visit our website and sign up for a newsletter. Or they can "Like" our Facebook page.
The best way to support our project is by helping spread the word about it and by donating to The Ukulele Kids Club via our Donation links on our web site and Facebook page (all proceeds go directly to them). Every $50 results in a child in need being able to take home an instrument. And for those who have the interest in high end custom instruments, buying an instrument when they are ready later this year!