Due to a technical snafu, my post 6 Easy Blues Outros didn't get sent out to email subscribers. It's a good one so please check it out.
The Mumbai police really go all out for a lost ukulele. Including scouring city-wide CCTV and interviewing 200 rickshaw drivers.
On Video
– Lupita Nyong'o latest role is a ukulele-playing zombie slayer.
– Taimane lists the different types of ukulele players.
– Each year XXL list the most promising rappers. Their 2019 list includes eight have done ukulele versions of their songs with Einer Bankz. Watch them here and judge for yourself.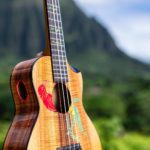 Window Shopping
– Kanile'a have launched an Endangered Bird Series of ukuleles to aid Saving Hawai'i's Forest.
– Pete Howlett long-neck concert.
– 1961 Martin tiple.
– Stewart Wailing resonator.