Vanity Fair investigates why a light ukulele ditty, Raindrops Keep Fallin' on My Head, was used to soundtrack Butch Cassidy and the Sundance Kid. (Tab for Raindrops… here.)
"Shirtless ukulele player pulled from top of police car in Fremantle".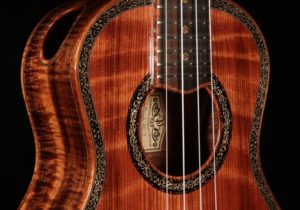 New Releases
– Biscuithead and the Biscuit Badgers' new album Thought Porridge (complete with handy songbook).
– Manitoba Hal has announced a collection of reworkings of his earlier songs: Vintage Blend.
– New record from Indian urban folk uker Arko Mukhaerjee: Bondhur Bari – My Friend's Home.
Window Shopping
– Kanile'a's 2019 Platinum Pineapple Tenor
– Orangewood Guitars have moved into ukuleles with their first collection: Marina Ukuleles.
– Les Rietfors custom pineapple.
– Tenor Petros ukulele.