Tab Books
– Harry Thomas of Renaissance Ukulele has released an ebook of low-G ukulele arrangements of tunes by, 17th century lute master, John Dowland called Dowlandia which you can download 'ere. The tunes are excellently arranged and it's a joy to play. Plus, it benefits Oxfam and the Survivor Girl Ukulele Band.
– New tab ebook from Choan Galvez: 50 Miniature Studies for Ukulele designed to improve your ukulele techniques.
– UOGB's free Nevermind The Valentine Songbook.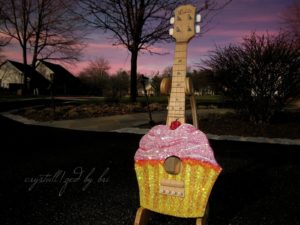 Window Shopping
– Cupcake ukulele with Swarovski crystals.
– Vintage electric uke.
– Wayne White's puppet guitar
– Kala release a mxmtoon signature ukulele.
– A model of Stitch playing the ukulele is somehow worth $2,800.
On Video
– Myanmar's ukulele protest.
– The Rock's mum ukulele-bombs his Fallon interview.
– Sam Neill and Jeff Goldblum's ukulele duet.