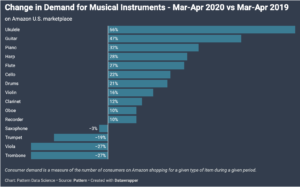 Demand for ukuleles on Amazon rose more than any other instrument at the start of the pandemic according to Pattern.
A new album from Uke Hunt favourite Phredd, Quarantine Tunes, is a collection of performances he's done for kids' clubs, libraries and uke festivals over the last year.
Another long-time favourite, Howlin' Hobbit has started selling video and document lessons starting with Mack the Knife.
Window Shopping
– Fretless Pelem ukulele.
– Luna Henna Dragon.
– Kanile'a 2021 Platinum.
– The Cavern Club's range of ukuleles.
Patreon
A massive thanks to all Uke Hunt's Patreon backers for keeping the site up and running. And double thanks go to these unmatched patrons of the arts:
– Arthur Foley
– Colleen Petticrew
– Dan
– David Burt
– Elizabeth Beardsley
– Fiona Keane
– Jeff K.
– Katherine Penney
– Kie77
– Leia-lee Doran
– Lisa Johnson
– Mr Daniel Barclay
– Nick Parsons
– Olga deSanctis
– Pat Weikle
– Pauline LeBlanc
– Sandi Clement
– shitzbleak
– Thorsten Neff
– Trevor Mccravy
If you sign up at the Concert level or higher you'll get access to all the past Patreon-only tabs including last month's: The Strangler's Golden Brown.