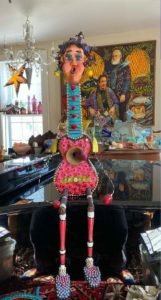 Ukulele sculpture by "Philadelphia Dumpster Diver" Linda Lou Horn.
Seattle Police are searching for an armed robber who stole $100 and a Billie Eilish ukulele.
Window Shopping
– A Hess Juka ukulele from 1938 with a device that seems to be the forerunner of the Chordmaster. (Thanks to @hermanvdc.)
– Ohana Vintage Line 390 and a custom painted Ohana.
– Flight Aqua A10QM.
– Kala Blue Bottle.
New Releases
– Craig Robertson has a new album: scratched out. And he's giving away his first 27 albums for free including he one I make an appearance on. If you're not sure where to start, get his Greatest Hats Vol. 1 or, my favourite, DeChirico Street.
– Tyrone and Leslie are crowdfunding their latest album on Pozible.
– Phredd has a new album out Ukulele Bundle of Joy. You can find links to it on your service of choice here.
Patreon
A massive thanks to all Uke Hunt's Patreon backers for keeping the site up and running. And double thanks go to these legendary patrons of the arts:
– Arthur Foley
– Colleen Petticrew
– Dan
– Elizabeth Beardsley
– Fi Keane
– Izzy Gensel
– Jeff K
– Kelby Green
– Kie77
– Leia-lee Doran
– Lisa Johnson
– Nevylle Carroll
– Nick Parsons
– Olga deSanctis
– Pat Weikle
– Pauline LeBlanc
– Robert
– T S
– Thorsten Neff
If you join Patreon at the Concert level or higher, you'll get access to all previous exclusive tabs including March's: Screamin' Jay Hawkins/Nina Simone's I Put a Spell on You.