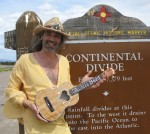 Candelas are best known for their guitars, which the legendary Andres Segovia called the finest guitars in the world, but make a range of fretted instruments including ukuleles (and a rather fetching mariachi guitarron).
Candelas is currently headed by Tomas Delgado, grandson of the Candelas's founder Candelario Delgado.
I'm particularly taken by their copies of the early Nunes ukes.
Find out more about Candelas ukuleles on their website.
On Video
Ukulele Bartt discusses his custom Candelas ukulele.