The Fluke is one of the most distinctive ukuleles around – immediately recognizable by its shape. It is also one of the most popular.
The soundboard of the uke is made of Australian pine and the back is moulded, rounded plastic. The back of the neck is made of maple. The standard fretboard is also made of molded plastic. However, you can upgrade this to a rosewood fretboard. It is also possible to buy Flukes with a pickup. The Fluke has friction tuning pegs. These are arranged like geared tuners, giving the uke 'ears' (as some ukulele players disparagingly refer to them).
The standard size Fluke is slightly larger than concert size. They are also available with a tenor length neck (with the same size body).
The Fluke comes with a soft gig bag as standard, but a hard shell case is also available.
I, like so many ukulele players, couldn't resist buying a Fluke. So I'm qualified to give it a review. Without doubt, it's one of the loudest ukuleles around. The sound it produces is very forceful. It's a fun instrument to play. My Fluke has the standard plastic fretboard. It does take a bit of getting used to and it's quite as enjoyable as playing a rosewood fretboard. If I'd had the money to spare at the time, I would have gone for the rosewood fretboard.
Flukes are available in a number of basic colors: Moonlight, Macademia, Natural Hibiscus, Poi-ple, Lava, Mango and Ukelyptus. The standard price of these Flukes is $195. However, you can quite often find these for sale second hand on eBay (which is where I picked up mine).
Flukes also come in a range of premium designs. These are more expensive ($233 and up). They include: Tiki Mug Fluke, Surf Fluke (both designed by Tiki King), Flame Fluke, Cowboy Fluke, Island Laser Fluke, Abstract Fluke and Magic Fluke.
Finally, it is possible (but difficult) to get your hands on a koa wood Fluke (it's just the top that is koa wood – the back is still plastic).
Whichever design you go for, Flukes are an excellent buy. It's hard to find one UAS sufferer that doesn't have either a Fluke or a Flea in their collection.
On Video

Sweatafton23 playing Britney Spear's Toxic on her Magic Fluke. Despite what she says in the video description, you can still buy this design.
On eBay
On Amazon UK
Concert Size Macadamia "Fluke" Ukulele FMM-F-199 Review
I've been researching sturdy ukuleles for a decent price over the last few months.what can I say, I've been bit by the "jumping flea" bug. Through research, e-mailing, and some conversations, I came to the conclusion that a "fluke" ukulele was the next best purchase for me.
Let me lay a little ground work here. The people at flea market music (also known as the magic fluke company) are a real pleasure to deal with. Sure, you can do all your ordering online, but if you're a bit more of a relational person with questions, this company is very accommodating. I called this company several days before my purchase and was assisted by a very kind lady who even gave me her thoughts, answered specification questions, and even referred me to "Jumpin Jim" Beloff…the founder of the company. I was able to e-mail with Jim a bit back and forth regarding a few more questions and by the end of that discourse, I was convinced.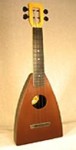 The Positives: The customer service was exemplary. The shipping time was just as they'd said it would be. The unit came in last week (week of 6/6/08) and I was able to use the fluke for a songwriter's concert that weekend!…..that's how well they stay in tune right off the bat. I personally love the quirky look of this instrument and the triangular body shape makes it very easy to hold without a strap (although I prefer playing with a strap). The rounded synthetic back gives the instrument a warmer tone, yet it still maintains the quintessential brightness of a ukulele. The fret board seems a bit wider than other ukuleles which suits me rather well (I've got big hands). What else can I say… I would encourage anyone to check out these ukes. For the price and craftsmanship I don't think you can beat them!!!
The Negatives: There ain't none!
By Todd Baio – Folk Musician & Ukulele Evangelist
Concert Hibiscus Fluke Review
After using a cheap $20 uke for a few months to decide if I was interested enough to invest in a good instrument, I decided that the time had come, and I called my uncle, a maestro of a uke player (and slack key guitarist) and asked him to help me choose one.
He brought me to Griffin Stringed Instruments in Palo Alto, California, and told me "There is only one uke for the committed novice, and that's the Fluke."
We tried out a few in different voices, and I settled on the concert size, in a nice hibiscus finish.
My fluke is my best friend. It goes everywhere with me, and I pull it out and play it when stuck in traffic, or when waiting for a meal in a restaurant, yes, really.
It has a beautiful tone, and the tuning pegs don't slip, something that has bothered me about most of my other ukes.
Perhaps the best thing about my Fluke is this. I am disabled, and not too steady on my feet. About five years ago, I took a fall in my house and landed smack dab on my ukes. Two were completely destroyed. They were cheapies, and I didn't mourn their loss, but my Fluke.. oh! my Fluke.
The face and neck of the instrument were fine, but its hard plastic back was cracked, and a piece of the back the size of a silver dollar had broken out. I was devastated.
I called my Uncle in tears, and he drove over to give me one of his ukes until I could afford to replace the Fluke. He picked up my poor broken Fluke and plucked at its strings for a few minutes, then began to really play it..
and he turned to me and said "Jenn, this thing sounds as good as, if not better, than before the break!" He went out and grabbed his Fluke from his car to do some comparisons, and what do you know? Mine actually played a bit louder and with more resonance than his. After comparing, he grabbed my Dremel tool and modified his Fluke to have a "backside" sound hole like mine did.
Any uke that can not only survive a 285 pound woman landing full weight on it, AND come out the other side sounding better than before, that's a uke worth owning. I cannot recommend the Fluke strongly enough.
Review by Jenn

Review by Lee Robertson
Fluke Specs
Size: Concert or Tenor
Top: Australian Hoop Pine (Koa wood also available).
Body: Injection molded ABS (plastic)
Fingerboard: Injection molded Polycarbonate or Rosewood.
Neck: Hard Maple or Walnut.
Frets: Concert – 15. Tenor – 17.
Tuning Pegs: Grover non-geared model 2B.
Overall Length: Concert – 22.75 inches. Tenor – 24.25 inches.
Scale Length: Concert – 15.5 inches. Tenor – 17 inches.
Fluke Ukulele Review
I had owned a number of much less expensive ukuleles before receiving this one as a gift and had been happy with all of the previous models. But, as they say, ignorance is bliss.
Let's go back a couple of steps first. I corresponded with the very friendly and helpful people at The Magic Fluke Company several times inquiring about construction of the uke, shipping charges, time for shipping, and possible upgrades, not listed on their website. All my questions were answered thoroughly and quickly. I was very pleased and even impressed by their customer service.
Ukes from The Magic Fluke Company takes a little bit longer to ship the ukes because they build each one as they are ordered (thus allowing for upgrades such as strings, pick-ups and tuners). My Fluke arrived about 3 weeks after I placed my order with the custom hard case. They normally ship with a gig bag (unfortunately one wasn't included with mine which was quickly rectified after speaking with one of their customer service reps again, thumbs up for great customer service).
I upgraded my strings to Aquilas in the tuned to low G and the tuners to the Grover 4B Sta-tite normally found on their koa model. After a little bit of finicky tuning (my first experience with friction tuners) I got her in tune and started strumming away. And then I re-tuned, strummed, re-tuned, strummed, washed, rinsed and repeated. The Aquilas took a couple of days to settle after the initial tuning.
The first thing I noticed? This uke was LOUD! More so due to the polymer back as the sound board was a laminate. Nonetheless, it sounded better than any of my previous ukes. The tone was richer, more mellow and warmer than I was used to. After a time, I did switch the strings to the traditional re-entrant tuning but switched them back finding that the sound was a little too bright with the high G. Then intonation was true all the way up the neck and individual notes and harmonics plucked at the 12th fret were accurate – neither flatter nor sharper than notes played on open strings(according to my tuner at least).
The neck of the uke is a little wider than I was used to which really helped with picking but required some getting used to for barre chords (which helped in the end since barring ukes with narrower necks became much easier afterwards). The neck also has a flat back. I was indifferent to this neck design – neither more nor less comfortable than a rounded neck.
Overall, I was very pleased and with the smaller body (it has a concert-sized body with a tenor scale neck) it makes for a great traveling companion. The polymer back also makes the uke lighter than my newer ukes.
Two things of note: first, the rounded polymer back is a little slippery so the depending on the clothing you are wearing, it makes it a little more difficult to hold on to. And second, the non-traditional shape made me want a more traditionally shaped uke.
Number or years played: 1.5
Other ukuleles owned: Pono PKT2, Kala KA-AFMT, Kala KA-MTE-C (and a handful of Mahalo soprano ukes)
Review by Roberto Katigbak