Mahalo are a very cheap ukulele made originally in China and now in Indonesia. They're most popular in the UK.
Their bright colours and low price tag mean that they are very popular with schools and ukulele groups. They're not the world's greatest uke by any means but, considering the price, it's a decent ukulele. The Mahalo is often the choice for new ukers just getting started with the ukulele.
There are rumours that one Mahalo in five sounds absolutely great. I'm not sure about that, but if you get to try a bunch of them out and pick one, that's a good way to go.
Mahalo's two most popular ukuleles are their pink ukuleles (insanely popular with girls) and the Flying V ukulele (which I would strongly warn you against buying – it's the worst ukulele I've ever played).
On Video
David Beckingham plays Baby Elephant Walk on his Mahalo tenor.
On Amazon UK
On eBay US
Mahalo U320C Ukulele Review
This is my ukulele. He's a 4 year old Mahalo U320C made, as far as I can tell from solid mahogany.
He was the 4th or 5th ukulele that I bought, is now part of a good medium sized collection, is one of hundreds of ukuleles I have played, but he still remains my favourite. Every favourite instrument should have a name and this one is known as "Escape Plan B"*.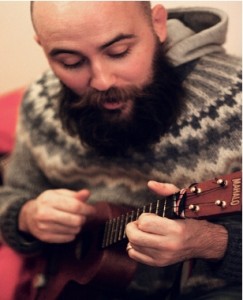 Us two have been all over together and are pretty much inseparable. We crossed the Atlantic to play in New York, flew to Sweden to play at pop festivals and have played at least 300 gigs up and down the UK. We've played live on the BBC, Xfm and 6music, recorded in Maida Vale, took the stage at Bestival & Lattitude festivals, gigged on boats and steam trains and never once let each other down.
He's even had his photo in The NME! He's not a shy uke, and I'm not a jealous guy…he has been played live by Robert Newman (of Newman & Baddiel fame!), Jens Lekman and Erlend Øye (from Kings Of Convenience).
He wasn't an expensive uke, cost me under 60 quid (complete with what is now a well worn, battered and bruised hard case) but with just a little tweaking he has proven to be invaluable. Firstly I had the saddle filed down under the "A" string to sort out an intonation problem (that only the luthier who could hear!). Giving the screws on the tuning pegs a little quarter turn sorted out any tuning/slipping difficulties there may have been, (I have to do this once every few months) and a nice set of Aquila strings really brought him to life.
I chose a concert sized uke for that wee extra bit of volume when playing acoustically and also with my clumsy old fingers this has been a wise choice. Last year I had a SHADDOW pick up installed by a good friend, this cost more than the ukulele, but has been another good investment. I usually plug straight from the uke into a D.I. box, to the mixing desk, or if I am being over anxious about my sound I will go through my wee DanElectro "Fish & Chips"EQ pedal, knocking off the bassier frequencies and being careful with the top end, though I usually find that if I let the sound engineer know what my ukulele sounds like acoustically then we get along fine! I'm no technical expert or sound master (as I am all too often reminded by my double bass player, who is!) but I have a whole wealth of empirical evidence that lets me know that this little Mahalo** ukulele is all any ukulele player could need (And the "Solid Mahogany" bit impresses my dad!)
Review by Jimmy McGee
*His full name is "Ghetto Escape Plan B", it was written on the side, but rubbed off due to over use…one day I will get it inlayed in Mother of pearl. Escape Plan A was University….that didn't go "as planned" so, Escape Plan B is the ukulele.
** "Mahalo" means "Thank You" in Hawiian…so;
"Mahalo" Mahalo for my lovely little instrument and all the great times I've had playing with him!!
You can watch Ghetto Escape Plan B in The Bobby McGee's A Dog At All Things.
Mahalo Ukulele Video Reviews
A decent sound from a cheap ukulele
Mahalo U30 review by Jack
Video review by JimmyUke
MY UKE IS FANTASTIC! I bought it a little over 4 months ago from a person on eBay. It cost me £20 and is an awful sounding, disgusting looking and very badly made Mahalo. The reason I bought a uke was that I had seen a busker in the street playing 'trail of the lonesome pine' and felt inspired to buy this beautiful sounding instrument, learn how to play it and take It around Europe with me for the three weeks I was going backpacking for. I decided to give it a shot. I went home, onto eBay looked for the next to cheapest one and bought it.
When the Ukulele arrived, I eagerly tore the bubble wrap off and opened the complimentary hard case (WHAT A BARGAIN). At first sight I was a little disappointed, the grained and aged wood in the tiny photo had now dissolved into balsa wood painted brown and the stylish logo on the head was just a sticker. But this still didn't put me off I found a tuner online and tuned it. I then found a chord sheet and began playing a 12 bar blues I was immediately surprised at how hollow it sounded and flat. Nothing like the sweet, mischievous sounds the busker could tease out of his.
After 10 minutes of playing it was out of tune. After 3 more tunings and tightening the machine heads twice I lost patience and fit it snugly into its complimentary hard case and slid in under my bed- almost embarrassed of it.
The next time I saw it was about a month later when I was packing for Europe. I decided I might as well take it, as that was the reason I bought it- to lesson the boredom on the long train journeys and maybe even have a bit of a sing along. I printed off a chord sheet and some tabs from the net and strapped it to my back with a screwdriver and some tape (for the machine heads).
After a couple of hours on a train into Paris I pulled it out and began playing immensely enjoying making an extremely public fool out of myself.
This may not sound like a fantastic Uke 'looks bad' sounds bad and is generally very unreliable but it had one tremendously redeeming quality, one that I did not expect at all. A social one.
I started to realise that whenever I carried it into a city people would always be friendly, always stop me to talk about anything, suddenly any language barrier separating me from the community is gone. I found that the ukulele seemed to stereotype me as a friendly individual, everywhere I went people were asking me to play things. It didn't even matter it sounded bad and that I only knew a few famous songs ('you got a friend in me' and 'sexual healing'). People just treated you like genuine guy- which can surprisingly uncommon as a backpacking student.
So to conclude this ukulele has been a great companion. Its been economical – you don't need to worry about losing or breaking it and opened up many opportunities. It has been a good experience and although it still sounds bad I'm getting better on it and it has made me want to buy a better one from which I can really play properly.
Review by Edward.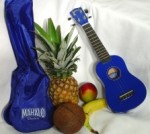 I recently bought a ukulele as a spur of the moment thing I suppose, as I was inspired by Patrick Wolf. The chosen ukulele, a blue Mahalo, has served me very well for the first 3 weeks of playing it. The sound produced is of great quality for an immediate beginner, and for only $24.95 you can't go wrong. The only problem is the fact that the strings go out of tune quite easily, but with a piano nearby it's not hard to fix. The Mahalo is so compact and easy to play; it's kept me entertained for hours, and made me very popular when I bring it to parties! I highly recommend to any beginner that they seek out this brand of ukulele for a very affordable price, and get strumming.
Review by Ben.
After playing guitar for several months, my girlfriend bought me a green soprano ukulele made by Mahalo for my 19th birthday. three years later, i still have my Mahalo and i would recommend them to absolutely everyone. firstly, there dirt cheap, mine cost £15 from ebay, this is the kinda price that makes students extremely happy and means that even those with little money can get a ukulele. secondly, my mahalo sounds beautiful. when i first got it i had to re-tune quite a few times but now it hardly ever goes out of tune and i have never needed to replace the strings. thirdly, its bright green! mahalo make ukuleles in variety of colours and even make flying V ukuleles! If your looking for a starter ukulele or just something to mess about with, buy Mahalo, their cheap, sound great, and look cool. so go buy one now dammit! make the uke be with you.
Review by Chris.
Mahalo U320C Review
Me and my Mahalo U320C Ukulele have been together since December 2007. Until then, I was a ukulele virgin. The upright piano – hitherto my lifetime companion – was pushed aside, just like that; and all for a cheap, lightweight, 4-stringed wooden box, with not much tonal quality, and hardly any volume. Was it really worth it? I think so.
Shortly after my first TV exposure to the Ukulele Orchestra of Great Britain, I could no longer resist the stirrings which this had engendered. I went online, googled 'ukulele', and was hooked from that moment on. There was absolutely no doubt whatsoever: I just had to have One of Those.
At 9am the following day I was the first customer of the day at Portsmouth's Courtney and Walker store. There were only two ukes in stock, both Mahalo. both cheap – either would suit a beginner. I quickly bonded with a concert Mahalo, described as "mahogany top, back and sides, rosewood fingerboard, white machine heads, nylon strings". I'm ashamed to say I only chose it over the other one because it came with a hard case. This meant I could travel with it , unlike my trusty piano, which always stays at home when I go away.
It was love at first sight – but it could have been any uke that liked me really. When you're as desperate as I was, anything will do. So I handed over my £46, and practically flew out of the door with happiness and anticipation. The outfit came with a book and CD, though I never used the CD. The chord chart in the book was useful enough for getting started with basic chord shapes. It was very exciting to learn new songs, and to try to adapt some of my piano music to the ukulele, an ongoing and never-ending journey. I have had to find the chords for myself for many of the songs I like to play.
Shortly after getting together, me and the uke took a plane to Lisbon, and from there, travelled to the rural area in Central Portugal where my young family live. It travelled well, flying as hand-luggage – the laptop had to go in the hold for the first time. (Get over it laptop, yes, I know you used to be number one on our travels…) And what a friends-and-family-friendly instrument my uke has turned out to be! Now everybody wants one of their own.
I expected to have to tune the uke every five minutes – having read as much on every ukulele site I visited online. So was pleasantly surprised to discover that it stays in tune reasonably well, and rarely requires a full-on tune-up – just the occasional tweak. And – oh yes, it sounds a bit tinny and raw, so it's probably just as well that it 's also a bit quiet…… but me, I just love it to bits – at least for now. But though new to uking, I do know that in real life, my uke's tone definitely leaves something to be desired! As you too can discover for yourself – check out my transparent and self-conscious, never-before-viewed, one-shot 90-second clip here.
Despite its shortcomings (and of course, my own!), I consider the concert Mahalo a worthwhile buy – in fact I think it among the best buys I ever made! It was cheap as chips and has given me (and others – fortunately of cheerful disposition) hours of good clean-ish fun-and-learning pleasure, from the moment I got it. It travels well in its purpose-built case, mostly stays in tune, though it's a bit quiet, and a bit wanting in tonality. But would thoroughly recommend it as a starter to anyone thinking of giving the uke a try. It's given me the opportunity to find out about some wonderful music that I'd never have heard before – not to mention introducing me to a new music community that I never knew existed. Upwards and onwards.
Exhibition Opening at Camara Municipal da Lousa, Portugal, March 2008.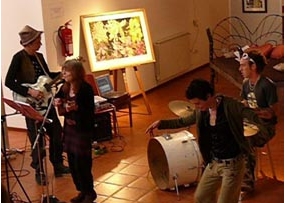 Chad took this photo of me playing my Mahalo ukulele with Steve on his hand-made bass, Darren on drums, and Fran on tapshoes on her special wooden board (which is out of shot). The uke needed an extra mike for this one, but otherwise behaved itself nicely.
Review by Linda Wilson
Mahalo Review
I caught the ukulele itch when, in December of last year, I thought it would add an interesting twist to my job as a youth services librarian. I have since bought two other ukuleles and am aching for another. My enthusiasm has also inspired my mother to revisit her ukulele playing days but she's in need of a little guidance and, of course, I'm willing to help her out.
Because I'm a beginner, I don't know much about the instruments themselves. I'm convinced, though, that seeing the instrument, being able to pick it up, manipulate the tuning pegs, play it, this is how to best judge its quality. I want my mom to invest wisely and I have my own needs when it comes to ukuleles. So, I had been going on a quest for different brands at local music shops here in Anchorage to see what our options were. For me, I wanted to find something that I could strap on my back and take hiking and that would travel well with me on my upcoming trips to Michigan and to Nashville. For my mom, I wanted it to be at a mid-range price, and good quality.
I came across a soprano sized Mahalo for $29.95.
The sales guy said, "Hey, this thing could blow up in your face and you'd only be out thirty bucks!"
SOLD.
Why it's not recommended:
–It doesn't sound that great. I have to tune it more frequently than I should. I'll have to invest in a pitch pipe (for some reason this low-tech option seems more fitting than my electronic one).
–There's a slight buzzing that never seems to go away.
–It often times sounds as if it's out of tune, even though it's not.
–I had to file the corners of the bridge down. They were sharp and pointy and jabbing into my forearm.
Why I like it anyway:
–My storytime kids don't tend to notice (or care about) the tone problems or the buzzing during "If You're Happy and You Know It".
–I've yet to encounter any dangerous wildlife but I'm interested in seeing if it will have the same affect on a bear that a young boy and his ukulele had on Abiyoyo.
–It's small. While my tenor ukulele sounds much better but I often times have difficulty stretching my fingers to reach certain chords. This smaller size solves that problem.
–I can travel with it and not worry about it getting smashed in overhead bins on an airplane or having it break my fall should I take a spill off a mountain. I'd only be out thirty bucks!
–I can leave it at work overnight (or over the weekend) without fearing that it will get stolen. It's like those people who have broken down cars, rusted farm equipment, and vinyl siding all over their yard. I bet no one steals from them. If anyone does then hey, they must be having some troubling times and deserving of a little slack.
Perhaps that's not a glowing recommendation but it fits my needs perfectly. I'd only recommend it for my mother because it's inexpensive and she's thrity.
overall review: perfect for my needs but not good enough for my mom.
The Uke: Mahalo U-30RD
Afterthoughts: My first excursion into the Alaskan wilderness was a hike to Bird Creek and the incredibly beautiful super secret waterfall. There was a threat of bear but no sightings by us. The uke was out of tune almost immediately but I persevered. I probably wouldn't buy another Mahalo for hiking but it's still nice for storytime.
Review by Emily Reeve.
Mahalo U30 Review
It's a couple of weeks before my eldest daughters 2nd birthday and I am wondering what to get her, she's taken a keen interest in Grandpas guitars and his Banjo although I'm pretty sure Grandpa's not so keen on little mits putting things into them, as I wander past the local music shop gaudily coloured tiny instruments catch my eye, they are; pink, yellow, blue, green, red, orange, white or black and they are only £13, they are Mahalo U30 ukuleles. A small price to pay for a birthday present which also doubles as a distraction from Grandpas more expensive instruments, perfectly sized for tiny hands and cheap enough that you need not worry too much about them. So one Pink U30 later and one little girl is delighted with her "ookoolaylay" and one grandpa breaths a sigh of relief as there is now a buffer between his instruments and a toddler. However this isn't a review of a pink U30 it's a review of a yellow one, that particular one arrived on xmas morning as a "fun" present from the girls and that is exactly what it is "FUN".
The Mahalo U30 is so cheap as to be almost disposable, it's made of plywood, has rather crude friction tuners which are a little trickier than would be expected to tune with but once in tune work fine, the strings stretch as soon as you strum them and the sound produced is rather muted and dull. It's quite heavy for a uke and quite basic in it finish. Now this may sound like a whole host of negative comments about this little uke and they are however that's pretty much where the negatives stop.
The techy stuff for this instrument; plywood body, pine neck, plywood fretboard, plastic nut and saddle (nubone?), friction tuners, a nylon gig bag and a choice of colourst. Nothing fancy, nothing expensive, but it all works.
The Mahalo U30 is robust, the two we have are subjected to more than there fair share of; bumps, bashes, scrapes and prangs and they still look as good as they did on the day they were bought, the paint is thick enough to put up with this and does not chip easily. Once the original strings were removed and replaced with some black ones which came with my Bugsgear Eleuke the difference was night and day. The black strings were far too brash sounding for the Eleuke and didn't fret easily on the tenor scale however on the soprano scale of the Mahalo U30 they are much easier on the fingers and the sound from the uke is louder and the tone has improved, I reckon that the robust build and finish of the U30 softens and rounds the sound of the harsher strings, it's still a quiet uke and doesn't have the same punch and brightness as a mahogany uke like my StewMac kit uke but for £13 what are you expecting. The fretboard is plywood painted black and the position markers are black dots on the side of the neck, basic but effective. The intonation on this uke is fine, the scale works as well as any other uke I have, it frets easily enough although the frets are a little high which results in some pitch bending.
Overall they are great little ukes, whilst cheap as chips you can still play a tune on them, you don't worry about leaving them anywhere and as a result they get picked up and played with. My daughter loves her pink ook and will sit and strum away with grandpa or myself, she'll then get up and wander around the house dragging her uke with her.
Overall for £13 you can't go wrong you can go very right though and have great fun with this brilliant beginners instrument.
Review by Martin Smith
The Mahalo U30 Painted Ukulele Review
The strings buzz, it's hard to tune, doesn't really sound all that great even when it is in tune, and is impossible to keep there, and yet…it might well represent the best $25 I've ever spent.
This uke is probably not for the guy who already plays something nicer, but then again, the guy who already plays something nicer probably already knows that. Nor, by the same token, would this uke be a good way to convince someone who plays another instrument of the ukulele's many merits.
The proper niche for this ukulele, I believe, is the person who doesn't play any instrument at all, yet. Twenty-five dollars is a tremendously low entry barrier. I bought my Mahalo on the spur of the moment, and was almost instantly rewarded with pure addiction. Sure, the sound wasn't great, but it was good enough to keep me entertained and coming back for more. To be honest, I was actually going through a bit of an unhappy time when I bought it, and I distinctly remember the miraculous curative power a little strumming had on my mood.
The amount of happiness and good that has come into my life from playing music makes me quite thankful I ran into this little guy. Likely as not, I would have kept on telling myself that I'd really love to start playing music someday, you know, when I had a spare $100-200 laying around, and that someday would never have come.
If there's anyone in your life who (perhaps unbeknownst to them) needs a uke in their life, this would make a wonderful birthday/christmas/hanukkah/whatever gift. That goes double for children, for whom the colorful paint job will likely outweigh the musical shortcomings, and any dings are just another excuse for a cool sticker.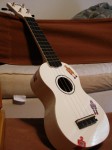 Review by James Gray