This is my favourite ukulele. It cost me AU$40 to tide me over while I was living in Sydney. Despite the fact it wasn't reallybought as a long term uke affair, the bond between uke and human has grown and grown.
The reasons why I love my Savannah ukulele:
Number 1. It has a lovely sound. I have never put replacement strings on this uke as it had a warm, round sound to itfrom the minute I bought it. Maybe the sound could be improved a little my putting some aquila on it, but even so. Alovely sounding budget price uke, which you don't have to replace the string on straight away, has to be pretty dandy.
Number 2. It has travelled all round Australia, flown from Sydney to Dubai and continues to travel around and about the
UK with me, handling my rough treatment during transit. Now, I am careful, but the savannah has with stood someknocks in it's time and not shown a dent or scratch from it.
Number 3. It holds its tuning. From Aberdeen to Glasgow on a cold day, it sounds pretty sweet straight from the case. Although, vastly improved with a good tuning. Even after some vigourous practice shredding strums, it can hold it's tuning.
Number 4. It's called Savannah, which is quite a pretty name once you get used to it.
Number 5. The fretboard is a really comfortable size. I've played a few uke's in my time and I just dig the size of the fretboard. A few mm here and there can make a bit of difference I think, and this one lends to a really relaxed way of playing.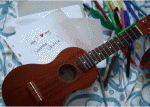 Things that I don't dig so much about by Savannah uke:
Negative 1. The varnish is wearing out faster than I would have expect it to. Although, I mostly like what a testament to me playing my uke frequently this looks like. But really, it should last a bit longer.
Negative 2. It is still a cheap uke. Despite offering lots of value for money, being far better than the mahalos you can buy for the same price, it will still never quite stand up to more expensive and better quality ukes. I still love it very much all the same.
I think the Savannah is an excellent buy for beginners and ranks well above mahalos as a cheap ukulele to buy. The sound is good, as is the durability and ease of play. Over all excellent value for money in the budget range, and in my opinion a really good buy for a uke to travel with.
Review by Emily.
On eBay