Review by Shelley Rickey:
I own several ukuleles, like most people do that are into ukuleles. (Those of you who don't have one yet…Watch Out! One seemingly innocent ukulele purchase and you're all done with!) Anyway, one of my ukuleles is quite special and of which i'm exceptionally fond…
Last year I was absolutely thrilled to receive a beautiful ukulele from Pete Howlett of UK Ukes. This uke was a very generous gift from him as a thank you for some graphic design work that I had voluntarily done for him. Actually I found it a bit too generous but after some persistence by Pete asking me to send him my address – I gave in and sent it to him. Well, come on, be honest, could you say no to a ukulele? Well, I received this beauty in the mail…
Now I'm not the type to dissect the technical aspects of the model or materials of a ukulele but I will tell you in my own humble opinion just what I think is so damn great about it.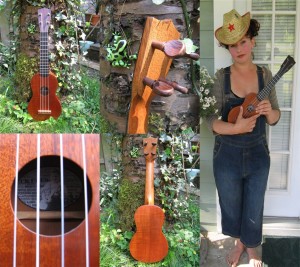 First of all, it's really pretty! The way the different types of wood are used is really attractive. The model is inspired by the Martin Style 0.
Second of all, it's light as a feather – so delicate. I understand that the thinness of the body of the ukulele has a great deal to do with the quality of sound and this wood is incredibly thin. Speaking of sound, it's just lovely. It has volume and clarity and it really sings out. It's also incredibly easy to play.
The other thing that I really like about it which at first I thought would be a problem are the tunning pegs. They're old fashioned peg tuners. Now it is, like I suspected, a bit more difficult to tune, but, the thing is that once you get it in tune it really stays in tune. I'm not sure why or how it stays in tune so well, but even in changing temperatures I usually only have to retune the C string. Really amazing. Plus, I think the peg tuners look cool, I love them!
And lastly, it's got a UK Ukes Seal on the inside with an absolutely adorable photograph of Pete when he was 4 years old with a kilt on and a plastic ukulele from Woolworths and Pete's signature. I think this is such a great personal touch.
Here is what Pete wrote about the ukulele:
"The body is from a piece of Honduran Mahogany I bought from the US and had cut up for me in California. The neck is Spanish Cedar, fingerboard ebony, tuners Rosewood, Ebony nut and saddle, linings Spanish Cedar, Abalone dots, KOA bridge It is an interpretation of a pre 1926 Martin Style 0 that I had in my workshop for repair. I am making them for sale at £295 but they will have Grover StaTite tuners instead of the wooden ones."
So, in closing, let me just say that I'm tickled silly with my uke and I'd like to thank Pete again for his incredible generosity. And if you'd like to hear Pete's Uke in action, come visit Marko & I in space…Guaranteed To Swoon!
Review by Shelley Rickey
On Video