Warning
: file_get_contents(): Couldn't resolve host name in
/home/adwood5/public_html/buyaukulele/cont/FrontControl.php
on line
2101
Warning
: file_get_contents(http://rss.api.ebay.com/ws/rssapi?FeedName=SearchResults&siteId=0&language=en-US&output=RSS20&sacat=16224&ftrt=1&fbd=1&sabdlo=&sabdhi=&saprclo=&saprchi=&floc=1&saslop=1&fsop=1&fsoo=1&from=R6&fss=1&sasl=&sacur=0&afepn=5335823730&customid=lanikai&saslc=0&fcl=3&saaff=afepn&catref=C5&frpp=100&satitle=lanikai%2B+&ftrv=1&fts=&salic=0&sascs=0&fspt=0&fpos=&sadis=25&frts=0): failed to open stream: operation failed in
/home/adwood5/public_html/buyaukulele/cont/FrontControl.php
on line
2101
Lanikai Ukuleles
Lanikai are part of the Hohner music company. Most of their ukuleles, being made in China and laminated, are at the cheaper end of the scale (although they do have a few high end ukes) but that hasn't stopped them getting some high level support.
The most famous Lanikai uker is Zach Condon of Beirut. I'm fairly sure the model he uses is an LU-21T. The LU-21T only costs $99, which makes it a good buy for a first time uker. You can find out more about the
Lanikai LU-21 here
.
On Video
On eBay
No products matching your query have been found in our store. Please bookmark this page and come back soon to see if we have what you want.
Lanikai LU21 Video Review
Lanikai LU21 ukulele review by Mike.
Here's the picture showing the thickness of the top which he references in the video: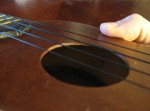 Lanikai HU212 Ukulele Review
Model: Lanikai HU212
Cost: £30
Wood: nato
Tuners: Geared
Frets: 12
Having begun my ukulele playing career on what was effectively a children's toy, I decided to aquire myself a new uke of a higher quality, there was however a major limitation in funds on my part so I was forced to look for a ukulele under £40.
For this price you can buy a lot of basic ukuleles (hell you could buy two and play ukulele tennis!) but the quality of sound on these cheap ukuleles is often lacking and the sound is clumpy and soulless this is why Lanikai's Hu212 should be held in such high regard.
The Ukulele is made of Nato a wood found in the Caribbean and south America, often used in acoustic guitars for a cheap alternative to mahogany as such it has a gorgeous dark brown colouring with light red tinge, the grain is also slightly pronounced which is highlighted nicely by the finish which was faultless, the fret markers are a subtle pearlescent plastic.
Initially getting it to stay in tune was a challenge to say the least and following spending a considerable period, pleading, threatening and swearing at the uke I was able to get all the strings in tune at the same time and once the strings had set it held tune remarkably well seldom dropping out of tune which was a pleasant surprise considering the price paid.
the Frets are brass and the string nuts are plastic all are well aligned and give a sweet and bouncy tone to the uke, however one does find that on the higher frets (from the 7th up) it does become slightly buzzy.
I was pleasantly surprised to find the uke was strung with GHS black nylons from the factory which saved me on replacing them however upon closer inspection and a little confused counting I was somewhat confused to find the fret markers to be on the 5th, 7th and 10th frets which takes some getting used to.
The action of the uke is nice and there is no buzzing or muting, the tone is surprisingly rich for such a price and it plays very well.
This uke is definitely worth the extra money for any beginner who thinks they might be sticking to the instrument as its quality far outstrips the price mark as well as more experienced players and is well worth waiting a while before you perfect ukulele tennis.
(I'm seriously considering uke tennis anyone up for doubles?)
Review by Cardboard Frog
Lanikai Concert Ukulele Review
Review by
hoosierhiver
Ode to a Lanikai Ukulele by Stephen Palmer
My Best Ukulele by Stephen Palmer
Chords: C, A, G
Time: 4/4
You get the idea of structure after the first verse:
C
My favourite uke is a
A D
Concert sized Lanakai
C
I bought from Ron.
He is man who owns a
A D
Music shop in my
C
Town Darlington
We had a conversation
A D
About me getting tickets
C
To see Tom Waits
When I got back I played my
A D C
Uke til my fingers ached.
My ukulele has a slender neck
And curves like my girlfriend
She is the only one that
I will ever play, until my ditty ends.
I'll never treat it bad
Or treat her bad.
This is a promise I'll tell you.
All I ever want to do
Is sit
And play my uke.
I wanted to make a video
To win the competition
I would have played the song myself
And give a demonstration.
But I don't have the time,
Technology
And I don't have the patience.
So I will leave the melody
Open to your own interpretation.
I think the ukulele is the best
Everyone should have one
Mankind should strive to reach
This aim of mine, it would be so much fun
There would no terrorism,
Or danger to the world coming from guns.
In the one hand would be a ukulele
The other hand would strum.
So now you know my great plan
To achieve world dominaton
Using only cunning plans
And a four string combination.
The world would be
Such a better place, if I was in charge.
With my army of ukulele players.
We would do no harm.
So this what I think of
When I pick up my uke to play.
And should my enemies try to steal
Her or plan to make her stray.
I will play a song so beautiful