Warning
: file_get_contents(): Couldn't resolve host name in
/home/adwood5/public_html/buyaukulele/cont/FrontControl.php
on line
2101
Warning
: file_get_contents(http://rss.api.ebay.com/ws/rssapi?FeedName=SearchResults&siteId=0&language=en-US&output=RSS20&sacat=619&ftrt=1&fbd=1&sabdlo=&sabdhi=&saprclo=&saprchi=&floc=1&saslop=1&fsop=1&fsoo=1&from=R6&fss=1&sasl=&sacur=0&afepn=5335823730&customid=tenor&saslc=0&fcl=3&saaff=afepn&catref=C5&frpp=100&satitle=tenor+fluke+ukulele%2B+&ftrv=1&fts=&salic=0&sascs=0&fspt=0&fpos=&sadis=25&frts=0): failed to open stream: operation failed in
/home/adwood5/public_html/buyaukulele/cont/FrontControl.php
on line
2101
Tenor Fluke Ukuleles
Fluke ukuleles come in two sizes: concert and tenor. The body for these two instruments is exactly the same. However, a larger neck is fitted to the tenor to give it a 17 inch scale length.
I have a tenor Fluke and it's great. It's easy to play and very loud. The only downside is mine has the plastic fretboard - there are Fluke ukuleles with rosewood fretboards. These are more expensive, but worth it.
On Video
On eBay
No products matching your query have been found in our store. Please bookmark this page and come back soon to see if we have what you want.
Fluke Ukulele Review
I had owned a number of much less expensive ukuleles before receiving this one as a gift and had been happy with all of the previous models. But, as they say, ignorance is bliss.
Let's go back a couple of steps first. I corresponded with the very friendly and helpful people at The Magic Fluke Company several times inquiring about construction of the uke, shipping charges, time for shipping, and possible upgrades, not listed on their website. All my questions were answered thoroughly and quickly. I was very pleased and even impressed by their customer service.
Ukes from The Magic Fluke Company takes a little bit longer to ship the ukes because they build each one as they are ordered (thus allowing for upgrades such as strings, pick-ups and tuners). My Fluke arrived about 3 weeks after I placed my order with the custom hard case. They normally ship with a gig bag (unfortunately one wasn't included with mine which was quickly rectified after speaking with one of their customer service reps again, thumbs up for great customer service).
I upgraded my strings to
Aquilas
in the tuned to low G and the tuners to the Grover 4B Sta-tite normally found on their koa model. After a little bit of finicky tuning (my first experience with friction tuners) I got her in tune and started strumming away. And then I re-tuned, strummed, re-tuned, strummed, washed, rinsed and repeated. The Aquilas took a couple of days to settle after the initial tuning.
The first thing I noticed? This uke was LOUD! More so due to the polymer back as the sound board was a laminate. Nonetheless, it sounded better than any of my previous ukes. The tone was richer, more mellow and warmer than I was used to. After a time, I did switch the strings to the traditional re-entrant tuning but switched them back finding that the sound was a little too bright with the high G. Then intonation was true all the way up the neck and individual notes and harmonics plucked at the 12th fret were accurate - neither flatter nor sharper than notes played on open strings(according to my tuner at least).
The neck of the uke is a little wider than I was used to which really helped with picking but required some getting used to for barre chords (which helped in the end since barring ukes with narrower necks became much easier afterwards). The neck also has a flat back. I was indifferent to this neck design - neither more nor less comfortable than a rounded neck.
Overall, I was very pleased and with the smaller body (it has a concert-sized body with a tenor scale neck) it makes for a great traveling companion. The polymer back also makes the uke lighter than my newer ukes.
Two things of note: first, the rounded polymer back is a little slippery so the depending on the clothing you are wearing, it makes it a little more difficult to hold on to. And second, the non-traditional shape made me want a more traditionally shaped uke.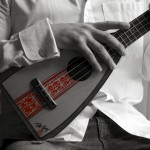 Number or years played: 1.5
Other ukuleles owned:
Pono PKT2
,
Kala KA-AFMT
,
Kala KA-MTE-C
(and a handful of
Mahalo soprano ukes
)
Review by Roberto Katigbak