As they mentioned in their very first ukulele love-in, Bosko and Honey developed their uke playing a long way from other uke players and had never met another uke player before their sojourn to the New York Uke Fest. They're planning to make up for that by spending most of next year touring the globe,

meeting and jamming with other ukers and documenting their travels for YouTube and a DVD.
They're going to be visiting the east coast of Australia, Japan, the USA, the UK and Europe (which covers everyone who has visited this blog ever apart from one person in Djibouti). So if you want to be one of the strange and exotic animals they observe on their safari – or you fancy jamming with them or putting them up for the night – head over to their website and shoot them an email.
Ukule Flambe – In The Jailhouse Now (mp3) via their website
I knocked up this tab for the intro to In The Jailhouse Now. Some of the positions are different to those Bosko uses.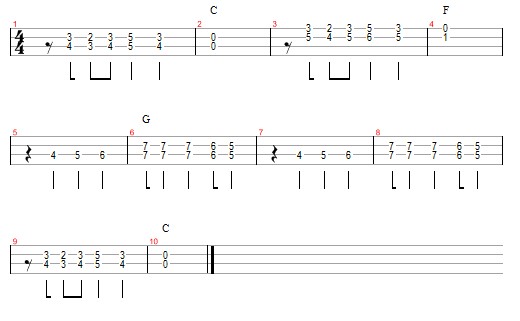 The chords for the song follow a similar structure – but with a D on the 'They've got him in the jailhouse…"