The final part of my list tracks you might want to grab as your free tracks when you sign up for eMusic.
21. Celebrants Song
A particularly out-there freak folk multi-instrumentalist. On this track, baritone uke notes splatter themselves against the wall while her voice mumbles something medieval sounding. It's quite something to behold.
Foster, her voice and her uke are also part of Born Heller.
22. Hardest Bastard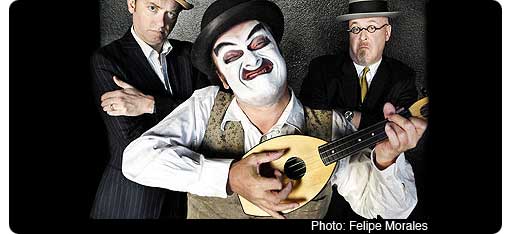 The Tiger Lilies are one of those love them or hate them groups. The sing twisted music hall numbers in a Monty-Python-woman voice while wearing make-up and bowler hats.
They are responsible for the most blasphemous song every written Banging In The Nails and plenty of ukulele offense-fests.
23. Kaulanna O Hilo Hanakahi (with Jimmy Kaopuiki)
Laid back, sunshine melodies from Herb Ohta.
24. I'm A Bear In A Ladies' Boudoir
Ukulele provided by Shorty Long mainman Pops Bayless. Do you need to know any more?
Another band with a decidedly ribald sense of humour. They play in a hokum style resurrecting old tunes such as Shave 'Em Dry (Lucille Bogan's too hot for the 30s jazz number) and this track made famous by Ukulele Ike. Both these tracks come from their must have EP Nasty Novelities.
As well as old covers they write their own material and cover more modern songs – such as The Beastie Boys' Paul Revere, Black Flag's TV Party and Nine Inch Nails' Closer – in the hokum styles (but do it more convincingly than Hayseed Dixie).
25. Kaveka
My favourite thing about eMusic is stumbling upon great music I'd never have heard of otherwise.
Uchiyama is primarily a dance and that shines through in her music – heavily rhythmic Polynesian and irresistibly dance-able. The tracks are dominated by percussion – even the ukes become percussion instruments.
There are plenty of tracks I didn't have space to mention ranging from hip-hop ukulele, to Tiny Tim, to wildly avant garde Musique concrete, to Ian Whitcomb's recreation of ragtime songs. You can check out a list of all the ukulele tracks I could find on eMusic. They even, I've heard others say, have tracks that don't include the ukulele. So go grab your free tracks and scurry away before they start charging you.
Click here to get these tracks on eMusic.
Other parts:
Part one
Part two
Part three