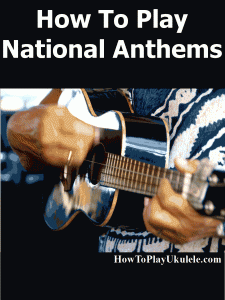 I admit it, I'm overexcited about the Olympics starting. I'm not much of a sports fan, but the Olympics gets me hooked every time. Which is why I took a little time out from writing the blues ebook (that I've promised loads of people is coming but is really big and involved) to have a bit of fun arranging various national anthems for the uke and putting them in an ebook.
I've written up eight anthems chosen by the countries that visit Uke Hunt the most: Australia, Canada, France, Germany, New Zealand, the UK, the USA plus Russia (for the benefit of my many hundred Communist readers).
I've kept the arrangements as simple as I could to make sure they're accessible. If you're fairly new to fingerpicking, they're a good place to start. To give you an idea of the difficulty level, here's my arrangement of Scotland the Brave:
The ebook is going to be sold for $7. But for the early birds, you can get it for $5 until the end of the Olympics (on the 24th August).
You can find out more here: How to Play National Anthems.
What you get: A zip file containing a pdf file with all the tabs and notes for each anthem, individual pdfs of the tab for each tune, mp3s of all the anthems. Once you've completed your payment, you'll be taken to the download page where you can get it all.
If none of that makes sense to you or you have any other questions check out our FAQ or get in touch with me.
UPDATE: The ebook has been mentioned in the New York Times. You can read the article here. (Look out bestseller list, here I come).
Here's how the arrangements sound:
Advance Australia Fair (mp3)

O Canada (mp3)

La Marseillaise (mp3)

Deutschlandlied (mp3)

God Defend New Zealand (mp3)

Hymn of the Russian Federation (mp3)

God Save the Queen (mp3)

Star Spangled Banner (mp3)

Cover by fadedpictures