Ukulele Hero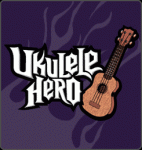 The Ukulele Hero t-shirt was very well received last time I mentioned it and from what I've seen they're the biggest sellers. There are also plenty of other Hero style T-shirts including Banjo Hero, Cowbell Hero and Kazoo Hero.
UPDATE: These t-shirts are currently unavailable. They've gone away and come back before, so who knows. I might even have my own design run up.
Price: $19
Uke the Whales
I think we all know by now that I'm a fan on the bad uke pun. And this is a particularly fine/terrible example.
Link
White T-Shirt

LeDomino
I'm sure I'm not the only one with a uke crush on the LeDomino. For now the closest I'm likely to come to owning one is wearing a t-shirt reminding me to buy one at the earliest possible opportunity.
I'm not sure why it's referred to as "La Domino" on the shirt. Possibly a trademark thing.
Links
No Longer Available
Black Beauty Ukuleles
Another 'slap an ad on a shirt' design. They appeal to me more than the sloganeering type shirts.
I'm completely unaware of any Black Beauty ukulele. The ad is a little ungrammatical: "This is a pretty, well-toned and big value." But if someone has spent long enough staring at your left boob to notice that, you've probably already pulled.
Links
No Longer Available.
Ukuleles are Cool
Saying something is cool is like so totally lame and stuff. Nevertheless, that picture is cool.
Link
No Longer Available.