The Fall – How I Wrote Elastic Man (Tab)

MP3
Man, those Indie Gods are vengeful. A few hours after the I'm Yours tabs went up, I was laying on the floor unconscious. Long story short: "Hmm, that hurt rather a lot." – "Now, what am I doing on the floor?" – ambulance – hospital (I'm leaving out the details in the hope you'll conclude I was doing something sexy and dangerous). In the end, the Indie Gods were merciful and I'm completely fine now. But they have spoken and I promise never again to post anything people might want to play. So here's a bit of The Mighty Fall.
Intro

For the intro I'm picking the E string with my index finger and A string with my middle finger.
Verse

This bit doesn't work too well – it's a little too wimpy.
For this section I switch my thumb to the E string and index finger to the A string.
Chorus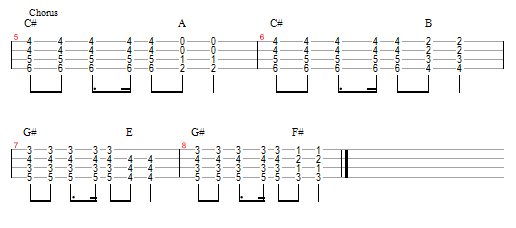 This is the bit that has seen me wandering around the flat shouting, " 'ow I wrote Elastic Man, 'ow I wrote Elastic Man…"

Can anyone answer me this: Did Frank Sidebottom play the ukulele or did the blow to the head cause some damage the doctors didn't pick up on?
This post originally contained this: "Elastic Man has been covered by comedian ukulelists Frank Skinner and Frank Sidebottom. You know it was, it really was." Which contains my favourite type of cultural reference i.e. one only about three people would get. In my mind's eye I always see Sidebottom with a banjo-uke but there's very scant evidence on the internets that he played one.
UPDATE: I wasn't imagining it. Here's a video of Frank Sidebottom with a banjolele.