Happy Easter, you guys.
There aren't many Easter ukulele songs around. Particularly compared to the amount of Christmas junk. Gerald Ross did a version of Easter Parade which Dominator has tab for. But my favourite is Cory McAbee's song with the Billy Nayer Show Slim. And he's giving it away via Twitter.
Chords
Or, more accurately, 'chord'. It's D6 all the way through. Which is all the strings open in D-tuning (which seems to be his tuning of choice) or this in C-tuning.
Strumming
The fancy way of doing it is to use a triplet strum (down with your index finger, down with your thumb, up with your index finger) but use it for straight quavers. Do that twice then one down, up. So it's:
d d u d d u d u
The easier way of doing it is with all down strums but emphasizing certain strums like this:
D d d D d d D d
Twiddly Bits
Here's the solo bit in D-tuning :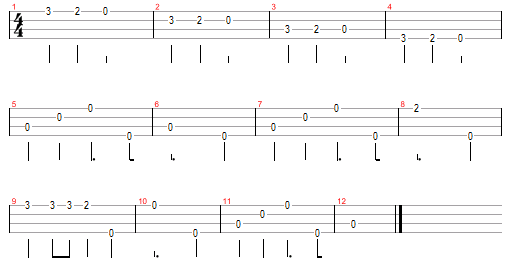 But it's playable in C, just move everything up two frets like this or you can move things around a little like this.
Visit corymcabee.com