I've had a copy of Learn to Play Fingerstyle Solos for 'Ukulele by Mark Kailana Nelson (Mel Bay) for an absolute age. And I've got a lot of pleasure out of it. So it's long past time I gave it a write-up.
What You Get
Tab and standard notation intended for high-G tuning (although 13 of them can be played on baritone or low-G according to the book) for
Ahi Wela (which you can download tab for on his site)
All Through the Night
Aloha 'Oe
Blue 'Ukulele Blues
Danny Boy
Dona Nobis Pacem
E Ku'u Morning Dew
Galiarde
Gaviotas
Greensleeves
Hilo March
Isa Lei
Kaulana Na Pua
Las Mananitas
Mbube (Wimoweh)
Minuet
Minuet in G
New Spanish Fandango
Over the Rainbow
Planxty Irwin
Pua Sadinia
The Ragged Little Flea
The Southwind
Twinkle, Twinkle Little Star
Wehiwehi 'Oe
As the title suggests, it's all fingerpicking.
It comes with a CD with a recording of each arrangement (but no tuning notes).
You get brief guides to reading music and tab (probably not enough if you're entirely new to them but a decent reference) and fingerpicking; performance notes for each piece and a list of chord inversions.
The Good Stuff
Perfect for Intermediates: I think this is the best book around for intermediate players who are experienced with chords and want to start tackling fingerpicking pieces. Each track has some performance notes that are going to offer you some guidance.
And the tunes are arranged fairly simply.
There's a lot of crossover between the tunes in this book and those in, the more advanced, John King's Classical Ukulele. They make for an interesting comparison. Here are the opening bars of Greensleeves arranged in Fingerstyle Solos (at the top) and Classical Ukulele (at the bottom) in the same key.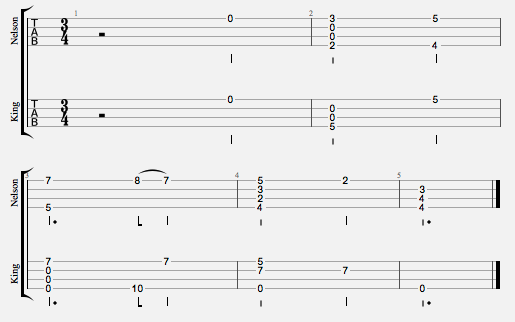 Mark Nelson's version is much easier to play but less elegant.
Mbube (aka Wimoweh aka The Lion Sleeps Tonight) and Over the Rainbow: Easily my two favourite arrangements in the book. Over the Rainbow is particularly useful for occasions when someone you want to impress requests it.
FYI: Using Over the Rainbow to impress a potential suitor: acceptable. Using I'm Yours or Hey, Soul Sister to impress a potential suitor: entirely unacceptable. Using Wimoweh to impress a potential suitor: very much encouraged.
The Not So Good Stuff
Lack of Variety: You might have noticed I like to play uptempo tunes. Unfortunately, Fingerstyle Solos for 'Ukulele is very heavy towards the slow, light tunes. There's very little fast tempo stuff.
Not always carefully arranged: Some of the position choices in the book completely baffle me. For example, here are the opening notes for Planxty Irwin:

I can't see any reason for that big jump between 3rd and 8th fret when you could play the C note much more easily on the g or E strings.
I have found myself rearranging a lot of the tunes in the book to suit my own style. Not necessarily a bad thing.
Overall
Definitely a recommended book for people looking to start of fingerpicking. Also a lot of fun to use as a basis for your own arrangements of tunes.
You can get a free arrangement from the book on his site.