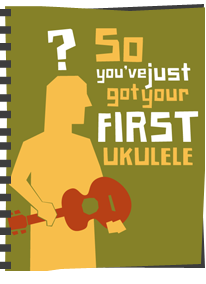 When I got my first ukulele, I was completely clueless. This was in those dark, long forgotten days before the internet had been discovered. I didn't even realise that the strings weren't supposed to go thickest to thinest and restrung it.
So, to save you from the social disgrace I experienced, I've put together a mini-ebook covering the basics that every first time uke owner needs to know. Here's what it contains:
Five Things to Know
Five Chords to Learn
Five Songs to Play
Five Websites to Visit
Five Things to Get Free
Five Things to Buy
Five Videos to Watch
Five YouTube Channels to Subscribe to
You can download it free by clicking here:
So You Just Got Your First Ukulele (PDF)
And get playing by following the beginner ukulele lessons.