Wellington International Ukulele Orchestra – Short People (Chords)
Randy Newman seems to be popular with a lot of Uke Hunt readers. He topped the what should Molly play? poll and came third in the Video of the Year vote with this one. He is a completely individual and unmistakeable songwriter. Which makes him very
easy to parody.
He also uses plenty of jazzy chords. Which sound nice but can be tricky to figure out. Andy did a version of this which differs a little from mine. So compare, contrast and decide which chords you want to use.
Baritone Version
I included the standard tuning chord shapes in the chart. But if you want to make like Bret and do a baritone version use these shapes: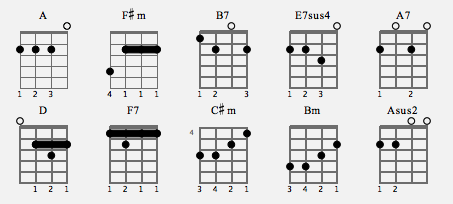 Suggested Strumming
In the intro and chorus, this for each chord:
d – d u
In the first half of the verses verses you can do this once for every chord:
d – d – d u d u
In the second half you can continue with that or do what the WIUO do and strum once for each chord.
You could also use that pattern in the bridge section. Or just strum once for each chord.