Velvet Underground and Nico – I'll Be Your Mirror (Chords)
I had to do a Lou Reed tribute post. And I decided on this less-famous song because it suits the ukulele well. The original was played with a capo on the fifth fret. Which means the chord shapes are the same for both versions.
Suggested Strumming
For the main strum you can use:
d – d u d u d –
In the intro and outro: Once for each chord.
In the verse: Main strum once for each chord except the first D. Play two down strums for that.
In the chorus: Two down-strums each on the C and D. One main strum each on the Gs. Then two main strums on the Am, one on the C and end on the D.
Twiddly Bits
The little picking bit in the intro and the middle works well on the uke too. Here's a simplified uked version: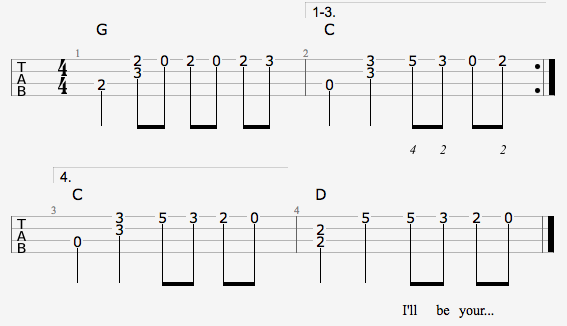 When you play it in the middle of the song just play the repeat once.

Intro
The little bit at the end of the chorus doesn't work quite as well but you can do this:


Lick
Links