Imelda May – Dreaming (Chords)
I've been enjoying Anything Goes Orchestra's album Mr Otis Regrets recently which includes a ukulele cover of Imelda May's Johnny Got a Boom Boom. Then Imelda May came out with this ukulele cover of Blondie. And next week I assume Blondie are releasing their Anything Goes Orchestra ukulele tribute CD soon to complete the circle.
That got me wondering what the longest chain of ukulele covers is. Here's my best attempt:
– Kristina G did a ukulele cover of Summer Vibe by Walk off the Earth.
– Who did a ukulele cover of From Me to You by Paul McCartney (and John Lennon).
– Who did a ukulele cover of Something by George Harrison.
– Who did a ukulele cover of Devil and the Deep Blue Sea by Arlen and Koehler.
If you've got a good ukulele cover chain leave it in the comments.
Suggested Strumming
You can use this strum all the way through:
d – d u – u d u
When you have two bars of the same chord a good alternative is:
d – d u – u d u
– u d u – u d u
Twiddly Bits
Dreaming (Riffs Tab)
Al (super cool name for a ukulele player) integrates the riff from the original version into his ukulele version. In the verse this riff takes the place of the C – F move: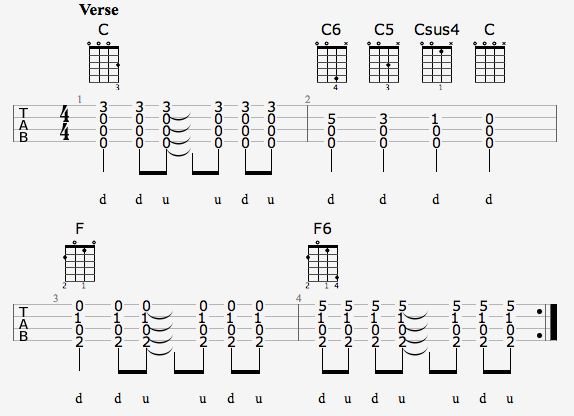 And the chorus this is used in the C – F part: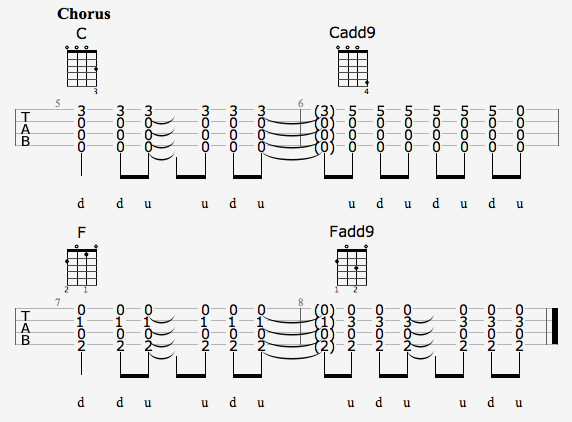 Blondie Version
Blondie – Dreaming (Chords)
The Blondie version is two frets higher. Which makes it a little more tricky to play on uke but still very playable.
Requested by RobNY and AlistairC.
Links
Buy the Imelda May versionbuy the Blondie version