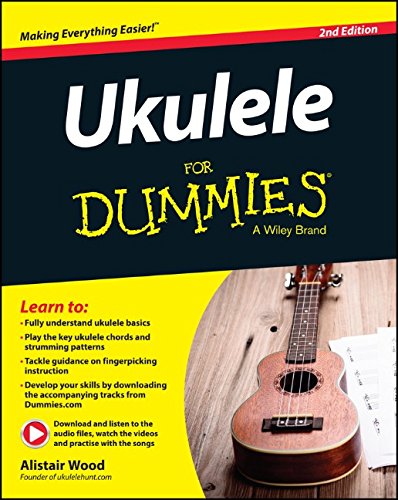 I've been blown away by how well Ukulele for Dummies has done. It's sold over 100,000 copies now which is way beyond what I ever imagined. It's also had good review. There are 151 5 star reviews on Amazon UK (with an average of 4.4 stars) and 185 5-star reviews on Amazon US (4.2 average).
I can't thank you enough for buying, reviewing and most of all recommending it. I know a lot of people who read Uke Hunt are the go-to ukulele person amongst their friends so I'm so massively grateful for people spreading the word.
The publisher must be happy with how it's gone as well. They asked me to do a second edition of the book which came out at the end of last year. Here are some of the details on it.
What's New?
There are two brand new chapters:
– Ukuleleing the Holidays: Like the rest of the chapters in Part IV, it applies techniques from earlier in the book to a type of music. In this case, Christmas and New Year tunes.
– Ten Greatest Ukulele Chords: My favourite chords, how to play them and when to use them.
There's a new section on useful mobile apps for ukulele players.
There's no CD anymore. But, mercifully, the downloads have been made easier to find and deal with. You can get them all here.
Some (hopefully all) of the typos have been fixed, a few bits have been updated and I've clarified and changed a few things thanks to the feedback I've had.
Audio and Videos
All the audio and video are easy to get now whether you've bought the book or are just curious. You can download the audio and watch the videos here. You can also find all the individual files linked here (useful if you're on mobile).
Should I Buy the First or Second Edition?
I'd recommend the second edition. As well as the extra chapters I think some of the explanations are clearer.
The only people I'd recommend the first edition to are those who are happier using a CD rather than downloads or have limited connectivity. But for people who would just rip the CD anyway, go with the second edition.
I Have the First, Should I Get the Second?
No, I wouldn't recommend it. The new stuff isn't essential in the 2nd Edition that wasn't in the first.
Excerpts and Extras
You can get a flavour for the book by reading these extracts and extras that are on Dummies.com:
– Suspending and Diminishing Chords on the Ukulele
– Relating Chord Diagrams and Tab to the Ukulele
– Extending Ukulele Chords
– Attempting More Complex Chords on the Ukulele
– Augmenting Chords on the Ukulele
– 10 Famous Ukulele Lovers
– Ukulele For Dummies Cheat Sheet
– Getting to Know Chord Families on the Ukulele
Second Edition Contents
Introduction
Part I: Getting Started with the Ukulele
Chapter 1: Exploring the Ukulele
Chapter 2: Tuning Up to Sound Great
Chapter 3: Discovering How to Handle Your Ukulele
Part II: Starting Out with Chords and Strumming
Chapter 4: Playing Your First Ukulele Chords and Songs
Chapter 5: Drumming Up More Strumming Patterns
Chapter 6: Meeting the Chords and Their Families
Part III: Picking and Single Note Playing
Chapter 7: Getting to Grips with Tabs and Notation
Chapter 8: Discovering Fingerpicking Patterns
Chapter 9: Combining Melodies and Chords When Playing Solo
Chapter 10: Picking Up Some Soloing Techniques
Part IV: Discovering Genres and Styles
Chapter 11: Rocking Out with Your Uke
Chapter 12: Playing the Blues to Lift Your Spirits
Chapter 13: Saying 'Aloha' to the Hawaiian Style
Chapter 14: Jazzing Up Your Uke Playing
Chapter 15: Strumming Up the Jawaiian Style
Chapter 16: Getting Classy: Classical Masterpieces for Ukulele
Chapter 17: Ukuleleing the Holidays
Part V: Buying and Looking After Your Ukulele
Chapter 18: Weighing Up Your Options When Buying a Ukulele
Chapter 19: Splashing Out on Essentials and Accessories
Chapter 20: Restringing, Maintaining, and Adjusting Your Uke
Part VI: The Part of Tens
Chapter 21: Ten Ukulele Players to Know
Chapter 22: Ten Ways to Get Involved in the Ukulele Scene
Chapter 23: Ten (or So) Tips for Improving Your Playing
Chapter 24: Ten Greatest Ukulele Chords
Part VII: Appendixes
Appendix A: Chord Charts
Appendix B: Reading Standard Musical Notation
Appendix C: Audio Tracks