The Rolling Stones – Sympathy for the Devil (Chords)
This is my all time favourite Rolling Stones song. And it's proved of interest to a few ukulele groups too. Most notably it's the tune that kicks of The Ukulele Orchestra of Great Britain's medley track Melange and Sinfonico Honolulu did a great version.
The song is very straight forward. It consists of just four chords (E, D, A and B). You can just stick with those chords all the way through if you like. But the piano does throw in a few Esus4 chords and I've included those as well.
Chord dictionaries can include a few janky versions of Esus4. Here's the version I like to go with: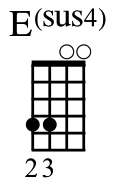 An alternative is to use this version of chords throughout the song. If you're in a group, it's a good idea to vary the chord inversions to create a fuller sound. Here's a set of inversions that you can use:

Suggested Strumming
To start of with you can do just one down strum per chord. When it gets going you can use this as the main strum:
d – d – d u d u
The tricky bit comes in the switch between E and Esus4 chord. In those bits play the main strum once then one down strum on E. Then switch to Esus4 for:
d u – u d-
Together they sound like this:

Strum
Twiddley Bits
Sympathy for the Devil (Solo)
The solo is a decidedly rough around the edges affair but I love it for that. If you want to take a similar approach to it just arm yourself with your E minor pentatonic scale and have at it.
I fancied doing it close to the original and just moved a few bits around to make it ukeable.
Here's my go at it (with another uke playing the chords underneath):

Solo
Links