Carrying on from The Joker, more of my favourite slide moments.
I wrote an ebook about playing slide ukulele. But the number one tip is: mute everything. Slide playing is noisey (which is part of its charm) so you need to mute the strings behind the string with your index and middle fingers. And use your picking hand to mute any strings you aren't playing at that point.
Tunings
None of the tunes here are played in standard tuning. When you have to play all the strings at the same fret it's useful to tune the strings so they make an open chord.
The tunings used:
Open C: gCEG Tune the A-string down to G.
Open F: fCFA Tune the g-string down to F and the E-string up to F.
Open G: gBDG Tune the C-string down to B, the E-string down to D and the A-string down to G.
Robert Johnson – Cross Road Blues
Tuning: Open C: gCEG, Capo 3rd fret.
Starting with the greatest slide guitarist of all time. The intro to Cross Road Blues is an absolute classic.
The intro mixes up slide and notes played with fingers. It's all slide up to the triplet at the end of bar 2. Then it's all fingers apart from the two notes at the seventh fret.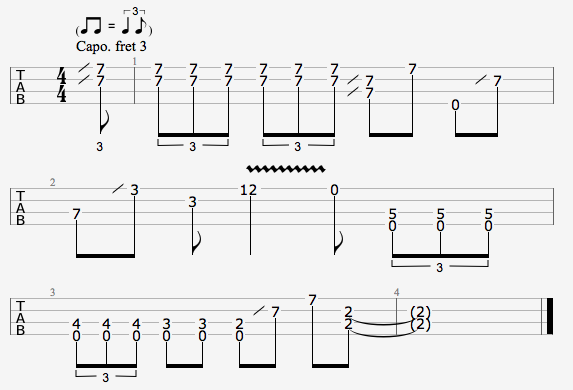 Led Zeppelin – Traveling Riverside Blues
Tuning: Open C: gCEG
Another Robert Johnson tune. This time the Mighty Zeppelin's cover of Traveling Riverside Blues. Again mixing up slide and fingers. All slide in bar 1 and all fingers in bar 2.

George Thorogood – Bad to the Bone
Tuning: Open F: fCFA, Capo 2nd fret
Bad to the Bone is the iconic slide rock riff. All slide for this one. The tab alternates between the main riff and short licks. Feel free to improvise around these.

White Stripes – Little Bird
Tuning: Open F: fCFA
A definite Bad to the Bone influence in this White Stripes riff. The tab starts with the riff that ends the verses and leads back into the main riff. The notes with simultaneous sixth and seventh frets are played with the fingers.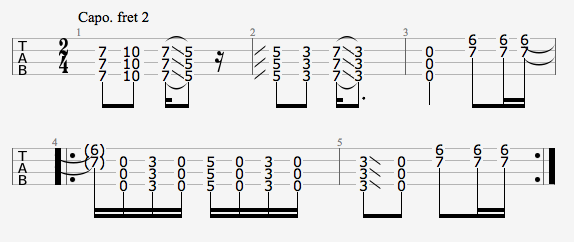 Elmore James – The Sky is Crying
Tuning: Open G: gBDG
The Sky is Crying is one of the most covered blues songs. The most notable versions are those by SRV and Albert King. And the two of them together. Even George Thorogood had a go without quite so much success.
This one is all slide. And it's a demonstration that the hardest part of playing slide isn't the slide but the staccato notes.