Rebecca Sugar has been raising money for National Bail Out with a stream with Estelle (uke action starts at about 15 minutes) and auctioning off her ukulele.
Aloha Radio Hawaii is a beautiful album recreating the sound of the "golden age of Hawaiian music". Although the project's founder Dave Way makes the slightly strange assertion that Hawaiian musicians can't play this way anymore so they had to use LA session musicians to keep it authentic.
Coronalele
– Musician, podcaster and author of The Chill Skill, Niall Breslin sent out 400 ukuleles to keep spirits up during the lockdown.
– UK Health Secretary, Matt Hancock tries to distract from the bad news.
– And Matt Hancock's rules meant that Opera-lele could get together and hum a song but not sing one.
– May Singhi Breen demonstrates proper mask wearing.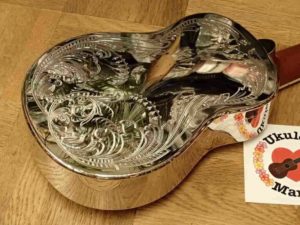 Window Shopping
– National Style 3 with some insane engraving.
– RIGuitars' ukulele inspired by George Harrison's Rickenbacker.
– Da H concert 14Fa S with violin-style headstock.
Patreon
A massive thanks to Uke Hunt's Patreon backers. And double thanks go to July's Tenor backers:
– Dan.
– Fiona Keane.
– Joseph Freeman.
– Katherine Penney.
– Nancy.
– Olga deSanctis.
– Pat Weikle.
– Pauline Leblanc.
– Potatoemagic.
– Sandi Clement.
– Trevor Mccravy.
July's Patreon exclusive for Concert level backers is Julie London's Cry Me a River.