Covid rules force schools to ditch recorders in favour of ukuleles as it turns out kids sharing spit isn't the best for hygiene.
On Video
– Electronicos Fantasticos jam on their ukuleles made of TV screens.
– Heart transplant recipient played ukulele, sang a duet before surgery
– Billie Eilish's ukelele goes up for sale
– Rebecca Black bows to the pressure.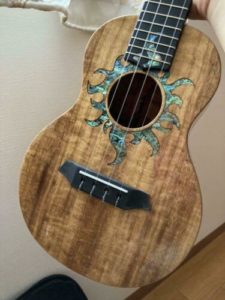 Window Shopping
– I was agonising over whether to buy this Rebel Quark but someone more decisive beat me to it.
– Ohana Custom Shop koa tenor.
– Tsuburaya Ultraman ukulele.
– G-String Sun concert.
– Ties for ukulele straps (via @hermanvdc).
Patreon
A massive thanks to Uke Hunt's Patreon backers. And double thanks go to August's Tenor backers:
– Dan.
– Fiona Keane.
– Joseph Freeman.
– Katherine Penney.
– Olga deSanctis.
– Pat Weikle.
– Pauline Leblanc.
– Sandi Clement.
– Trevor Mccravy.
Augusts's Patreon exclusive for Concert level backers is Queen's Love of My Life.