Sam and Fred Kamaka have received Congressional gold medals. (Via Ukulelia.)
James Hill has launched a ukulele clothing brand. So far, no oversized Hawaiian shirts or Formby false teeth.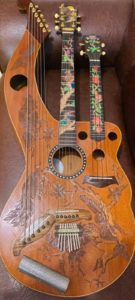 The fantastic Paula Fuga has a new album out including features from Jack Johnson and Ben Harper: Rain on Sunday. I backed this on Kickstarter way back in 2014 and it's been well worth the wait.
You can hear Paula along with Willie Nelson, The Staves and many more ukulele music released this year on the Ukulele Hunt 2021 Spotify Playlist.
Window Shopping
– Kanile'a's stunning 2021 Platinum.
– The nutso Blueberry guitharpulele.
– Patent for a ukulele small enough to fit on a ring.
Patreon
A massive thanks to all Uke Hunt's Patreon backers for keeping the site up and running. And double thanks go to these unmatched patrons of the arts:
– Arthur Foley
– Colleen Petticrew
– Dan
– Elizabeth Beardsley
– Fiona Keane
– Katherine Penney
– Kie77
– Leia-lee Doran
– Lisa Johnson
– Mr Daniel Barclay
– Nick Parsons
– Olga deSanctis
– Pat Weikle
– Paulina Banach-Mazur
– Pauline LeBlanc
– Thorsten Neff
If you sign up at the Concert level or higher you'll get access to all the past Patreon-only tabs including July's tab: Pink Floyd's Comfortably Numb.