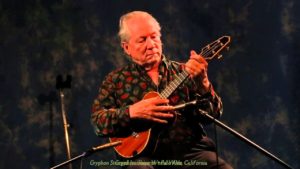 Rick Turner, luthier and maker of the Compass Rose uke, has passed away. You can read fellow luthier Beau Hannam's obituary for him here. And you can watch him playing some Django on one of his own ukes here.
– The Ukulele 2022 playlist is taking shape. With tracks from hip youngsters with a laissez faire attitude to capitalisation mxmtoon and BoyWithUke to classical pieces written by Philip Glass and Davide Tammaro.
– Jack White has taken to sharing the stage with a life-size sculpture of a guy playing the ukulele.
Window Shopping
– Kala Release their "April 1st Exclusives"
– Flight Aqua A10QM and Flight Pathfinder solid body electric.
– Southern Ukulele Store run down some very handsome Kanile'a ukes.
– Grateful Dead uke with an insane price tag.
Patreon
A massive thanks to all Uke Hunt's Patreon backers for keeping the site up and running. And double thanks go to these legendary patrons of the arts:
– Arthur Foley
– Colleen Petticrew
– Dan
– Elizabeth Beardsley
– Fi Keane
– Jameson Gagnepain
– Jeff K
– Kelby Green
– Kie77
– Leia-lee Doran
– Lisa Johnson
– Monika Kolodziejczyk
– Moses Kamai
– Nevylle Carroll
– Nick Parsons
– Olga deSanctis
– Pat Weikle
– Pauline LeBlanc
– Robert
– T S
– Thorsten Neff
If you join Patreon at the Concert level or higher, you'll get access to all previous exclusive tabs including April's: Toto's Africa.