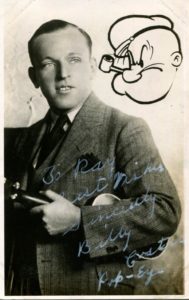 Hawaii News Now are impressed by Jake's sons' ukulele playing.
Choan Galvez has a new ebook out: For Four Fingers and a new one on the way Eight Rags a Week.
Billy Costello (the original voice of Popeye) and his ukulele.
A book teaching you to play ukulele is banned in Oregon prisons.
Ukulele Player Lands Dream Job Scoring Kickstarter Campaign Video:
"Here at Kickstarter headquarters, we maintain a stable of fresh four-string talent, sort of a 'Wrecking Crew' of ukulele players," said Taylor. "We put the campaign videos onscreen in the recording studio and just let these cats cook. Last week one of our players slipped into a uke trance—we knocked out twenty videos in one afternoon. It was like watching Miles Davis in his prime if he were promoting a water bottle that connects to Wi-Fi.
Twenty One Pilots attempt to debut a new uke song.
Patreon
A massive thanks to all Uke Hunt's Patreon backers for keeping the site up and running this month. And double thanks go to these legendary patrons of the arts:
– Arthur Foley
– Colleen Petticrew
– Dan
– Dennis Boutsikaris
– Elizabeth Beardsley
– Ivo
– Jameson Gagnepain
– Jeff K
– Jeff Otto
– Jon Kenniston
– Kelby Green
– Kie77
– Lisa Johnson
– Monika Kolodziejczyk
– Moses Kamai
– Nevylle Carroll
– Nick Parsons
– Pat Weikle
– Pauline LeBlanc
– Robert
– Thorsten Neff
– Tina Knight
If you join Patreon at the Concert level or higher, you'll get access to all previous exclusive tabs including February's: Elton John's Tiny Dancer