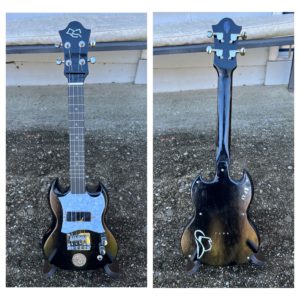 Herman Vandecauter has an extensive examination of the Madeiran machete (the forerunner to the ukulele).
Nick Offerman has a new batch of ukuleles almost done (but you won't be able to buy one unless you're his buddy).
The unfortunate history of politicians and instruments in the uke family continues with Ed Milliband's guitarlele.
Window Shopping
– Ortega HYDRA ZS double neck uke.
– RIGuitars' latest custom is a Pegasus Uke.
– Paul Gilbert demonstrates the electric RG Ibanez ukulele. I think it's fair to say he's better with an electric drill than he is with a ukulele.
Patreon
A massive thanks to all Uke Hunt's Patreon backers for keeping the site up and running this month. And double thanks go to these legendary patrons of the arts:
– Arthur Foley
– Colleen Petticrew
– Dan
– Dennis Boutsikaris
– Elizabeth Beardsley
– Ivo
– Jameson Gagnepain
– Jeff K
– Jeff Otto
– Jon Kenniston
– Kelby Green
– Kie77
– Lisa Johnson
– Monika Kolodziejczyk
– Moses Kamai
– Nevylle Carroll
– Nick Parsons
– Pat Weikle
– Pauline LeBlanc
– Robert
– Thorsten Neff
– Tina Knight
If you join Patreon at the Concert level or higher, you'll get access to all previous exclusive tabs including March's: