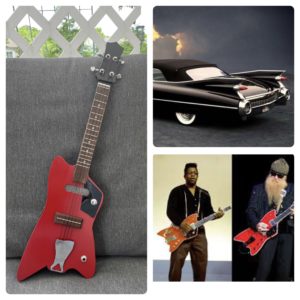 Will putting helium in a guitar turn it into a ukulele?
The songs people most want to learn to play on ukulele (#1 will leave you completely unshocked).
Ukuleleist Iam Tongi has won American Idol.
Window Shopping
– RIGuitars Bo Diddley style uke.
– Lichty build a family of ukuleles from one tree and a uke with eight steel strings.
Patreon
A massive thanks to all Uke Hunt's Patreon backers for keeping the site up and running this month. And double thanks go to these legendary patrons of the arts:
– Arthur Foley
– Colleen Petticrew
– Dennis Boutsikaris
– Elizabeth Beardsley
– Ivo
– Jameson Gagnepain
– Jeff K
– Jeff Otto
– Jon Kenniston
– Kelby Green
– Kie77
– Lisa Johnson
– Mary
– Monika Kolodziejczyk
– Moses Kamai
– Nevylle Carroll
– Pat Weikle
– Pauline LeBlanc
– Robert
– Thorsten Neff
– Tina Knight
If you join Patreon at the Concert level or higher, you'll get access to all previous exclusive tabs including May's: Jimi Hendrix's Little Wing