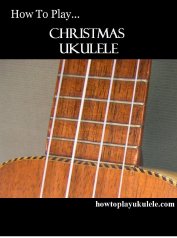 Now that we've reached December, it's time to grab your uke and start practicing a few Christmas tunes.
With that in mind, I've put together a tab ebook for a dozen Christmas favourites all arranged in a simple fashion. The full list of tabs is:
– Twelve Days of Christmas – Auld Lang Syne
– Carol of the Bells – The Holly and the Ivy
– Deck the Halls- Good King Wenceslas
– Hark! The Herald Angels Sing – Silent Night
– In the Bleak Midwinter – Sussex Carol
– Here We Come A Wassailing – God Rest Ye Merry, Gentlemen
Being Christmas, I'm selling this book cheaply: $7.
You can read more about it and listen to mp3s of the tunes here:
I'm selling this ebook using a slightly different method which has a couple of advantages: as well as being taken to the download page after you pay, you should get an email with a link to the download page as well; and, unlike my other books, those in the EU do not have to pay VAT. It's a new system, so if you experience any problems let me know and I'll do my best to sort it out.