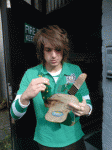 Paolo Nutini drives his bands mates to destruction with his endless ukulele playing. The uke's death was followed by a cremation.
If you like Audrey Lighting's style, learn how to make your own ukulele LED light.
The winners of Ukulele Review's Play It Forward contest. As one uke competition ends, another begins on Ukulele Underground.
Fong Songs has an mp3 of Jake Shimabukuro doing Celine Dion's My Heart Will Go On. And Indiemuse has Broadcast 2000's Get Up and Go (best know to UK ukers as that song off of the e.on ad).
Ever been jealous of a ukulele? Ever been not so jealous of a ukulele? (neither of those are particularly safe for work)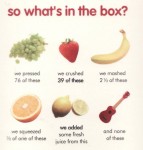 Innocent Smoothies: do not contain ukuleles. (Thanks to Artifus for that one)
Lost ukulele answers to the name Snuffles.
Quite possibly the creepiest thing I have ever seen.
I think I must be going soft in the head. None of these made me vomit from cutesiness as they would any right thinking person: Tiny Tiny Tim, Ukulele Cowboy, Jamming, Shanti Rock ukulele. Ah, bless.