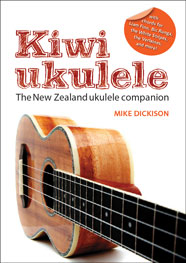 Finally, a beginner's ukulele book that I can wholeheartedly recommend.
I've been moaning about the quality of ukulele beginner books for a while now. They all seem very dated in the songs they select and nowhere near comprehensive enough to cover everything a beginner should know when they out. Luckily, Mike Dickison (he of Mike's Ukulele Page) has written the book that the ukulele deserves. He covers the basics comprehensively, but what really makes it stand out is that he conveys where the ukulele scene is at right now. There are chords for ukulele classics (Five Foot Two, Ukulele Lady), uke/punk crossovers (Anarchy in the UK, Blitzkrieg Bop) and indie ukulele (Ukulele Me).
All the basic chording, strumming and picking are put across effectively and concisely with top notch illustrations (not surprisingly).
As well as the playing side, he also covers the other essential parts of the modern uke scene that none of the other books mention: ukulele clubs, recording yourself on your computer and ukuleles on the net.
The book does have a New Zealand focus (I'm ashamed to admit that I couldn't have named the New Zealand national anthem in either language before reading the book), but set your New Zealand prejudices aside. It deserves to get picked up and adapted by an International publisher as it's by far the best introduction to the ukulele I've ever read.
Mike will be putting up extracts from the book here and you can order it online here.