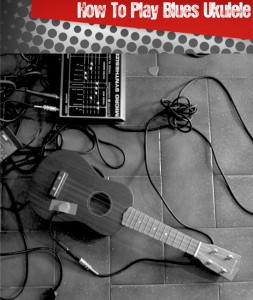 I've been mentioning that I'm working on a Blues Ukulele ebook for a while now and had a bunch of people asking me when it would be out. Well, it's finally here.
It's taken so long because I wanted to make absolutely sure you'd be blown away by it and I think you will be.
If you've been following the blog for a while, you'll have noticed that I'm on a bit of a mission to change how people think about the ukulele. What music it's capable of playing and, more importantly, what it's capable of expressing. The reputation of the uke is pretty high right now, but there are still far too many people out there who don't have a clue what it can do. By the time you've mastered everything in this ebook, you'll have the chops to leave people in no doubt that the you can play the blues on the ukulele.
It's going to give you the skills to jam along with ukers and non-ukers and cut heads Karate Kid style.
The book covers blues chord progressions, intros, outros, turnarounds, riffs and solos. To give you some idea, here's an mp3 of little tune that's tabbed out at the end of the book containing many of the ideas and techniques in it.

Blues Ukulele Example (MP3)
You can read more about it here: How to Play Blues Ukulele
Or, if you can't stand to wait a moment longer, you can buy it here:
Cover photo: e-uke by R.W.W. under Creative Commons licence.