Thanks to everyone who has bought How to Play Ukuleles for Peace already (six days left to get the ebook at the cheaper price). And an ever bigger thanks to everyone who promoted it including Valerie who made a video for Project 4 Awesome promoting UfP. I'm going to keep going on about this until everyone's bought it – it's my last chance for avoiding eternal damnation. I think the only way to counteract my lifetime of coveteousness, apostacy and making girls cry would be to bring peace to the Middle East.
If you were quick off the mark and downloaded an early version of So You're Just Got Your First Ukulele, you might have found some of the links didn't work (specifically, the ones with numbers in). It's been fixed and you can download the new version here.
If you've been following UkeTube, you'll know I'm a big fan of Jake Wildwood. As well as the old-timey songs, his videos always have him playing the gorgeous vintage instruments that he repairs and restores. And he's now started a blog Antebellum Instruments. There's already a healthy amount of ukulele pr0n including a Regal Soprano Ukulele.
Two excellent new ukulele CDs out: Craig Robertson's DeChirico Street (buy it and get a free MP3 here) and Allo, Darlin's Christmas EP (available on MySpace).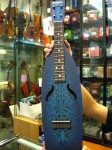 Friend of the blog, Tzu Ann discovered this Sapelele for sale whilst out Christmas shopping. It's a cross between a uke and a sapeh.
New fish-tacos/ukulele song from Flight of the Conchords. (Thanks to Zak).
Wii Music creator Shigeru Miyamoto plays the ukulele in real life.
Bucky Greenhorn: Hollywood's next leading man.
ya see there is this guy i like. whenever he has a ukulele with him and i am near him or i passed my him him he plays im yours. does that mean he like me?