This was an incredibly difficult post to write. Not for the usual reason that tribute posts are difficult to write – to my regret, I was always too intimidated to even email him – but because everything he did is absolutely fascinating. A quick scan through his writing for a few juicy quotes ends up being half a day spent engrossed in his extensive and detailed histories. A glance through Classical Ukulele turns into hours picking apart his note choices (and trying to my fingers in the position 9058 for Bach's Prelude). Visiting his YouTube page to pick out a couple of examples results in endless rewinds and 'How did he do that?' moments.
As someone who plays, writes about and tabs for the ukulele, I've always been a John King wannabe. Here are just ten things I've learnt from him.
1. Campanela Style Playing
Truth be told, if I had been rich you wouldn't be reading Ukulele Hunt right now but Harp Hunt (or possibly Genial Harpes). I love the sound of the close harmony notes bleeding into each other. Which is why I was drawn to John King's campanela style of playing. A technique he resurrected from re-entrant players of JS Bach's time.
The idea is to play one note of the melody on each string and let the notes ring into each other. For example, you would usually play a descending E major scale like this: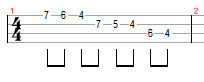 And here's how you'd play it in the campanela style (letting the first four notes and the last four notes ring together):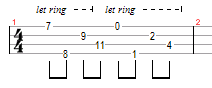 And here's how they sound (standard technique first).

MP3
Playing in this way the re-entrant tuning from a restriction into the element that lets the ukulele ring and shine. It's been a huge influence on how I arrange tunes: take a look at my arrangement of Baby Elephant Walk for example.
For a masterclass on campanela, watch John playing Carol of the Bells and get his tab for it here.
But it ain't easy. As John himself said:
The truth is it's a crazy way to play the uke; ease of execution is all but sacrificed, subordinated to whatever it takes to get that shimmering, harplike sound.
2. You can be classy on the ukulele.
Just watch his performance of Bach's Bouree. Fluid and perfect.
Whenever I feel the need to impress someone with the classy potential of the ukulele I break out Tarantella Italiana from Classical Ukulele
3. If you're really good you can make it look easy.
While some idiots can't get through a tune without gurned and waggling their tongue around, John King made it all look simple and effortless. No matter how difficult it actually is. On his Larry O'Gaff & Swallowtail Medley with James Hill for example.
4. Dynamics are more than just quiet verse/loud chorus.
Take a listen to what he does with Chopsticks. Without a great deal of light and shade in the dynamics, it would be a very boring piece.
5. Every bit of information I trust about ukulele history.
A lot of the ukulele history out there tends to be either dull and superficial or romanticised. But everything John wrote had obviously been thoroughly researched and carefully disected. Whether it's a quick overview of the uke's history for a museum exhibition or a post on the development of plastic ukuleles.
6. I'm not the only one who thinks the ukulele is difficult to play.
I might have caused a bit of a kerfuffle with last week's post, but if John King was on my side I was probably right.
Some people may tell you the 'ukulele is easy to play, but don't you believe them… anytime someone tells you something is easy to learn, it's probably because they want to sell you lessons.
7. Concentrate on your playing by thinking about boobs.
Finally, an aspect of playing in which I can call myself a master.
8. Anyone who tells you they know the origin of the word ukulele is lying.
I love his article debunking one of the ukulele naming myth: taking in discussions of political wranglings, the pestilent nature of fleas, racist stereotypes and whether Edward Purvis got the nickname ukulele by being an asshat.
His conclusion on the real origin of the word ukulele:
Final answer? Your guess is as good as mine.
9. I should be more pro-active with my emailings.
10. Always end on a joke.
At the 'Ukulele Guild of Hawai'i Exhibition and Conference in Waikiki last November, someone was interested in buying one of my collections of uke music, but after attending my workshop she was worried it might be too difficult for her. "No, no, you should try it," I assured her. "It's easy."