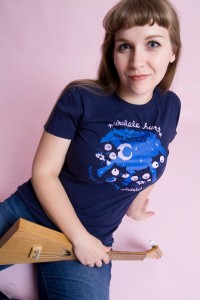 I've been promising these for a long time and you may well have seen a few of them crop up on various ukers. To be honest, the whole thing has been a nightmare. I've been looking at companies that print t-shirts and deliver them. And I've found that most of them are terrible. That's why today is only half a launch of the t-shirts.
If you find yourself in North America, you can buy the shirts on Spreadshirt.
There are two designs: The Under-Bear and The Ukulele Hooters both designed by Art Grootfontein. As modelled by the delectable Jodi Mathews and the gorgeous Todd Baio.
They're both available as skinny fit and relaxed fit. If you're going for the skinny fit (by American Apparel) make sure you're very generous with the size you select.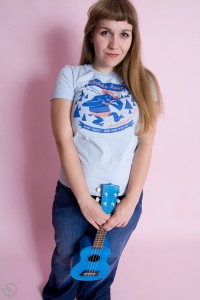 That's the good news. The bad news is for anyone outside North America. The shipping from Spreadshirt will cost more than the shirt and that, in my opinion, makes them not worth getting. I've tried a number of other companies with no luck. The European Spreadshirt finds it impossible to print designs on a coloured T-shirt. Red Bubble took more than a month to deliver the shirts and the quality wasn't good enough.
If anyone knows of a reliable service in Europe that will print T-shirts and handle orders and delivery, please, please, please let me know about it. Until I find something, you'll just have to walk around topless.
UPDATE: Due to popular demand… I'm currently testing out Comboutique for the shirts in Europe. I can't say whether they're any good or not. But if you want to take a chance, you can buy them here.