The idea behind these little snippets is that you memorize them and roll them out at an appropriate moment to make yourself look like you have a quick wit and a huge repertoire (or make yourself look like a smart-alec knob).
Cheesy Joke

If you had a drum you'd go ba-dun tsss. But you've got a uke so play this.
Phone Call

I wonder how Tarrega would feel about his Gran Vals being one of the most recognisable tunes on the planet but only known as the Nokia tune.
Here's an easier version:

Someone's on the Pull Tonight

You don't have to be accurate with the frets here, just make sure you play it with irony.
Spooky

Are You Trying to Seduce Me?

Yes, I do have to work this one up into a full arrangement.
Grand Entrance/Big Unveiling

Playing a grand fanfare on the ukulele is inherently hilarious and particularly appropriate when the thing being revealed isn't particularly impressive. Anyone know where this tune comes from? The folks on Twitter were no use at all.
Sad Trombone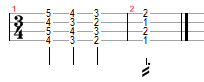 Thanks to SamD for suggesting this.
Tied to the Tracks

Suggested by Jodi and Scott.
Big Clock

This one uses harmonics but it works fine playing the same thing without them. It just won't sound so chime-y.
Suggested by turgis.
Anyone have any suggestions for other tunes that could come in handy?