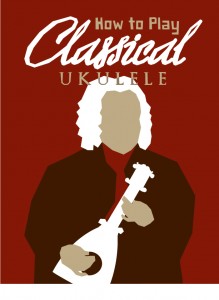 I promised delivery on July 1st and here it is.
Your Rugged Good Looks and Easy Charm Have Convinced Me Already. How Do I Buy It?
After you pay you'll be taken to the download page and get it sent to you by email.
What's In It?
You get tabs for 7 classical tunes arranged for re-entrant ukulele:
Blue Danube – Strauss
Bridal Chorus – Wagner
Elephant – Saint-Saëns
Gran Vals – Tarrega
Orpheus in the Underworld – Offenbach
Pizzicato by Delibes
Toreador Song – Bizet
The focus is on tunes that you'll have fun playing and that people will recognise and be impressed by. The focus isn't on good classical technique or faithful recreations of the original works (in some of them I've sythed out the less famous sections).
You get individual pdf files of each of the tabs along with an ebook (fancied up by Ben Lew) with my usual blathering and a few general pointers on playing. It's not a full on guide to classical technique, more along the lines of the stuff that usually accompanies tabs on here. It's all delivered digitally. Check out FAQ for more info.
I've decided just to go with the YouTube videos this time round. It cuts down on download size and technical problems. So there are no videos or MP3s included in the download. Just links to the YouTubes.
Why You Shouldn't Buy It
In the spirit of bad marketing, you might not want to buy it if:
– You've never done any fingerpicking. There's a variety of difficultly but none of them are suitable for beginners.
– You're looking to develop classical technique.
– If you play soprano only: Some of the tunes use frets above the 12th.
What If I Get It And It Sucks?
As with all my stuff, if you don't like it let me know within 7 days (with the email address you used to pay with) and I'll send you full refund. No questions asked or seething resentment.
I Can Now Look Past Your Ugly Face and Repugnant Personality. How Do I Buy It?
After you pay you'll be taken to the download page and get it sent to you by email.
I Have A Question
If you have any questions, queries or problems you can email me at ukulelehunt@gmail.com or contact me here.