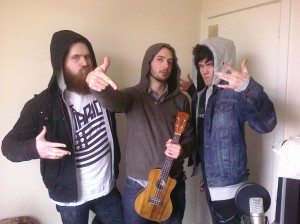 Download Podcast #6
Subscribe on iTunes
The March 2011 edition of podcast is up and has a hilarious session from Midland punk rocker Uke's Not Dead. As always, Bossa has turned up a bunch of great tunes, mostly from people I've never heard before, and included a healthy dose of toilet language.
We're still looking for someone to do a session for the April show so if you're interested and can get yourself to Manchester send an email to podcast@ukulelehunt.com.
You can find the rest of the podcasts here.
The full playlist:
1. Gwyn Edwards – St Guinefort etc.
2. Evanescent – The Palace of the Wind
3. Eloise Boutry – A Little Adventure Called Life
4. Jen Kwok – I Don't Think About Dying
5. Small Engine Repair – Pass the Time
6. Uke's Not Dead (Live in Session) – Jeremy Kyle
7. Uke's Not Dead (Live in Session) – Oi, Kid! Don't Be A Hoody
8. Uke's Not Dead (Live in Session) – Ah, Fuck. I Can't Believe You've Done This
9. The Brass Traps – Drunk Mosquito
10. Salwa Azar – Floating in Milk
11. Naked Girls & Aeroplanes – Rough Love
12. Kirsty McGee – Sandman
13. Thingumabob & the Thingumajigs – Two Sips