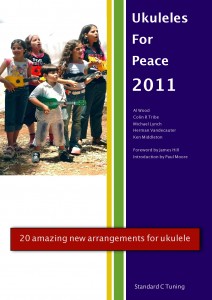 About three years ago I put together a tab ebook to benefit Ukuleles for Peace with the help of some friends. Since then it's raised over $3,500 for them. It's done so well that Ken Middleton has put together a follow-up featuring tabs from me, Colin Tribe, Michael 'Ukulele Mike' Lynch, Herman Vandercauter and Ken himself. It also features a foreword from James Hill.
It's priced at $15 (that's 75c per tab, that's about 50p in the UK and 50 Euro cents). You can pick up a copy on Ken's site for $15. Or just click this button:
What is Ukuleles for Peace?
Ukuleles for Peace brings together Arab kids from Tira and Jewish kids from Hod HaSharon in Israel. They learn ukulele, sing songs (in Arabic, Hebrew and English), gig and have get-togethers. The aim is to create ties between the Jewish and Arab communities in Israel.
Take Siwar Mansour. In 2007 she was the strumming hand in this pair. Now she's the only Muslim in a Jewish high school and has rocked up a storm with Ukulollo.
Find out more on their website.
What's in the ebook?
20 tabs (all shown for both C and D tuning – two designed for low-G/A) in an ebook with a foreword by James Hill and an introduction by Paul Moore.
The tabs are for:
Al Wood
– Banana Boat Song (Day-O) (traditional)
– Bean Setters (traditional)
– Hard Times by Stephen Foster
Colin R Tribe
– Malaguena (traditional)
– Misirlou (traditional)
– Morning by Edvard Grieg (this is the one I've been practicing since getting my hands on it)
– The Flea Bites Back by Colin R Tribe
Michael Lynch
– Cherry Blossoms by Michael Lynch
– Finlandia by Jean Sibelius
– Keyport Rag by Michael Lynch
– The Rose Garden Serenade by Michael Lynch
Herman Vandecauter
– Andante Vivace by Francesco Molino
– Anglais (anon)
– Chacarera (anon)
– Savillana (traditional)
Ken Middleton
– Willson's Wilde by John Dowland
– The Sky-Divers' Waltz by Ken Middleton
– Blackberry Blossom (traditional)
– Worried Man Blues (traditional)
– The Water Is Wide (traditional)
How do I get it?
The ebook costs $15 and it's delivered by download. You can buy it on Ken's site or by clicking here:
Once you've paid via PayPal or credit card, you'll go to a page with the download link (the money goes directly to Ukuleles for Peace's PayPal account). You'll also get a email with the download link in it.
Quick warning if you're on iPad/iPhone etc: You won't be able to download the file directly. You'll have to download to a computer, unzip the file, and transfer it.
If you've got any questions, ask in the comments or contact Ken Middleton.