Beirut – A Candle's Fire (Chords)
The new Beirut album is finally out! I got as far into it as the first track before I decided I had to grab my uke and work it out before I moved on. He's using his 6 string Kamaka and it sounds great.
I've written it up as C# tuning or capo on the first fret. But it's somewhere between C and C# tuning. The chords themselves shouldn't provide too many problems though.
Suggested Strumming
There are a few passing chords which you can play like this: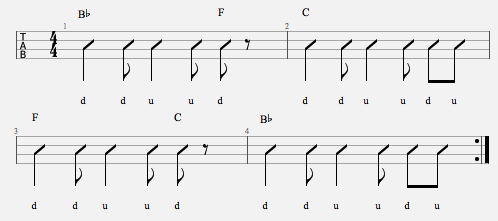 If you find that a bit tricky, you can just miss those chords out and play Bb – C – F – Bb with this strum once for each:
d – d u – u d u
Intro
You can transfer the accordion intro to uke like this: