I've just launched three new and improved editions of my ebooks:
How to Play Ukulele Strums
How to Play National Anthems
How to Play Slide Ukulele
They've been updated with a sleek new look more in line with the site. Plus more info, new arrangements and videos.
If You've Already Bought Them
Firstly, I'm insanely grateful. It means so much to me that people are willing to lay down a bit of their hard-earned money for my stuff. I couldn't run the site without that support and after nearly 7 years of doing this it's still amazing to me that it's my job to write about ukuleles.
As a little thanks for that support if you bought the first edition of any of these books you get the second edition free. You should have had an email from me with a link to a new download last week. If you haven't just send me a message with the ebook you bought and the email you used when you bought it and I'll fix you up.
How to Play Ukulele Strums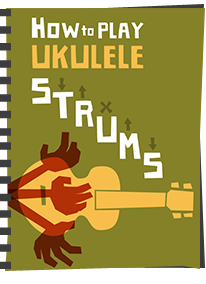 The biggest problem I see new ukers having is with strumming patterns.
You can pretty easily find chords online for most songs but you're usually left on your own to sort out a strumming pattern.
With this ebook I'm fixing that two ways:
– Providing a whole bunch of strumming patterns. There are 49 in the book covering different time signatures, genres and occasions. All with video and audio examples.
– Understanding how a strumming pattern fits into a song. I think this is the biggest barrier for new folks. After reading this book you should be able to listen to a song and have a much better idea of what strumming pattern to use and how it fits in with the song.
Learn more about Ukulele Strums
How to Play Slide Ukulele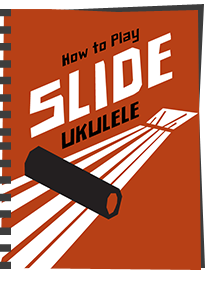 This is my most straight-ahead fun ebook. Before starting work on it I felt a bit in a rut with my playing. Like I was playing the same thing every day. So I started playing around with a slide and it got me really excited again.
In the short term it was exciting to have a new toy and new sounds to play around with.
Even more importantly in the long term it made me appreciate how restrictions can open up new ideas and new avenues. With a slide being less flexible than fingers I had to delve into new tunings and harmonics much more deeply than I had before.
And that's what I hope people will get from reading this ebook. It's definitely not a book for beginners. But if you've been playing a while and are feeling slightly jaded then I'd highly recommend playing around with a slide.
Here's one of the examples in the book:

MP3
Learn more about Slide Ukulele
How to Play National Anthems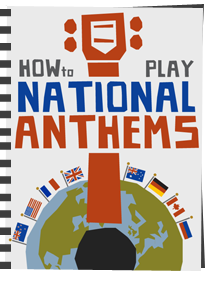 For the update I've made the anthems much easier to play. And I've added duet versions with easy to play, single-note melody and backing chords.
The ebook has:
– Easy to play solo ukulele arrangements of 7 national anthems.
– Even easier to play duet version with a single note melody and chords for backing.
– Australia, Canada, France, Germany, New Zealand, the UK, the USA (and a mystery bonus solo tab – which is less of a mystery if you've got good flag knowledge).
Listen to the tunes and read more about National Anthems